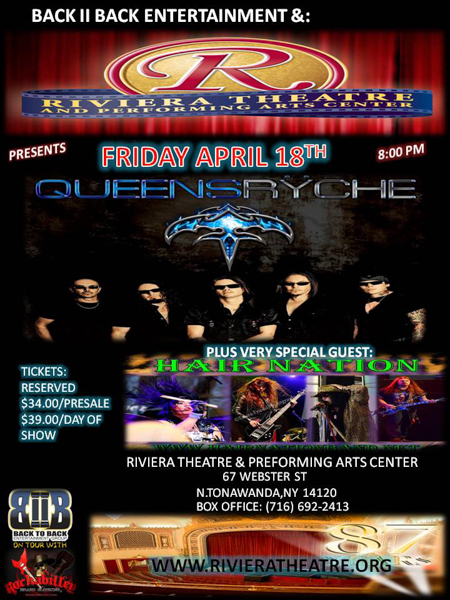 CONGRATULATIONS TO KIM PAWLOWSKI OF NIAGARA FALLS, NY!!
  Back 2 Back Entertainment and BackstageAxxess team up to give you an exciting giveaway for the month of March. Jake E. Lee's Red Dragon Cartel and Queensryche will be coming to the Western New York area in the month of April. Jake E. Lee's Red Dragon Cartel will be playing at Rock and Roll Heaven on Monday April 7, 2014 and Queensryche will be playing at the Riviera Theatre on Friday April 18, 2014. These two exciting shows are courtesy of Back 2 Back Entertainment.
  We are giving away 2 tickets and 2 meet and greet passes for each show. In order to properly qualify, you must like BackstageAxxess and also follow us on Twitter. Both links are below.
http://www.facebook.com/backstageaxxess and
http://twitter.com/backstageaxxess.
  Once you do this, you can submit (VIA EMAIL) your entry to contests@backstageaxxess.com. Also submit your Twitter name AND YOUR FULL NAME AND MAILING ADDRESS. This contest will run through March 31 at 12 noon EST. A winner will be announced and posted immediately thereafter. Good luck!!!
  The contest is open to EVERYONE! Please follow the directions closely or your entry will not be counted. Also, make sure you are able to attend before you enter. Directions for the meet and greet and tickets will be given the day before or day of so please stay tuned and check your email.
  For more information on the Jake E. Lee's Red Dragon Cartel show, please go to: Red Dragon Cartel Tickets.
  To purchase tickets for the Queensryche show, please go to: Queensryche Tickets.
  To see more exciting shows being presented by Back 2 Back Entertainment, please go to: Back 2 Back.