Artpark in Lewiston was the hottest place to be last Wednesday. The soaring temperatures matched the heat onstage as Colbi Caillat and Christina Perri brought their "Girls Night Out" tour to town.
  Caillat opened the show as the daytime heat was lingering into the evening. Dressed in a long black, open-front skirt outfit, she launched into a set of originals that had the mostly female crowd singing along. Caillat had an interesting start to her career as one of the top unsigned artists to appear on "My Space." Her music is lighter fare, matching her laid back California lifestyle. Hits like "Bubbly" and show closer "Brighter" were met with squeals and screams from the crowd. Unlike most pop artists, Caillat writes her own music. A talent on guitar as well as piano, she brings a classy and sophisticated style to the stage.
  Closing the show was young singer Christina Perri. A powerhouse voice as well as guitar and piano playing skills make her an up and coming young star. A string of hits like "Burning Gold", "I Believe" and show ending "Jar of Hearts", "A Thousand Years" and 'I Don't Wanna Break" had the crowd standing for most of the second half of the show. As the show ended, a young group of girls exited singing her songs and proclaiming it was the "best concert of my life." With the talent of Caillat and Perri, there will be many more "best concerts" in their young lives for sure.
Christina Perri setlist:
Shot Me in the Heart
Arms
Run
Burning Gold
The Words
The Lonely
One Night
Be MY Forever
I Believe
Human
Jar Of Hearts
A Thousand Years
I Don't Wanna Break
Colbie Caillat setlist:
Live It Up
Fallin For You
If You Love Me
Never Gonna
Realize
Droplets
Feelings Show
Hold On
Favorite Song
Bubbly
I Never Told You
Try
Brighter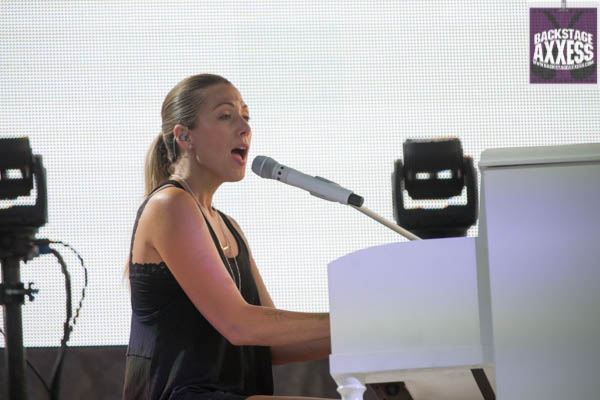 We would like to thank Maria Hays from Artpark for her assistance in obtaining credentials so BackstageAxxess can review the show.