We live in a world today that, in many aspects, is temporary. Pop groups make their mark with a hit record and seem to disappear, never to be heard from again. Even Grammy winners like Marc Cohn, Christopher Cross, and the infamous BahaMen had the spotlight at one time. Evidence does exist to the contrary. Take, for instance, The Mighty Spinners, who appeared last Wednesday at the Erie County Fair in Hamburg, NY. This group has had many incarnations and has had hits across four decades. With a lineup of outstanding singers, Henry Fambrough (the only surviving original member), Charlton Washington, Jessie Peck, Marvin Taylor and Ronnie Moss put on a hit parade of classic songs while dancing, shaking and yes, spinning their way across the stage. From the opening number "Could It Be I'm Falling In Love" each member took turns at lead in a well choreographed performance.
  Dressed in identical, bright yellow pant suits, dare I say "leisure suits," the Mighty Spinners put on a fun-filled and memory stirring show. Highlights included "Sadie" which they dedicated to all the mothers in the house, "Mighty Love," which drew the biggest cheers and The double encore medley of "Then Came You," One of a Kind Love Affair," Games People Play," and "Rubberband Man." A special mention mention must be made here of the dedication of founding member Henry Fambrough. He has kept the group alive since 1954 and still performs every show with the passion of a much younger man. When you have done something in the entertainment business for over 60 years and crowds are still packing in to see you, you have to feel blessed.
  Fambrough spoke about the group and backing band like they were family, The only drawback to this show was the most popular Spinner, Phillipe Wynne, whose voice is heard on most of the group's hits, was not recognized or celebrated in any way. It was Wynne that sang with such emotion and spirit during the 70's heydey for the Spinners. That same spirit was alive in the new band tonight though, and it looks like it will continue for many years to come. If you really loved this era of music, the Spinners are one of the few bands that can bring it back to life.
Setlist:
Could It Be I'm Falling in Love
It's a Shame
Funny How Time Slips Away
I'll Be Around
Working My Way Back to You / Forgive Me Girl
Sadie
Mighty Love
Ooh Baby Baby
Get Up Offa That Thing
Cupid / We're Having a Party / Cupid
Encore:
Then Came You
One of a Kind (Love Affair)
They Just Can't Stop It (The Games People Play)
The Rubberband Man
2nd encore:
The Rubberband Man Jam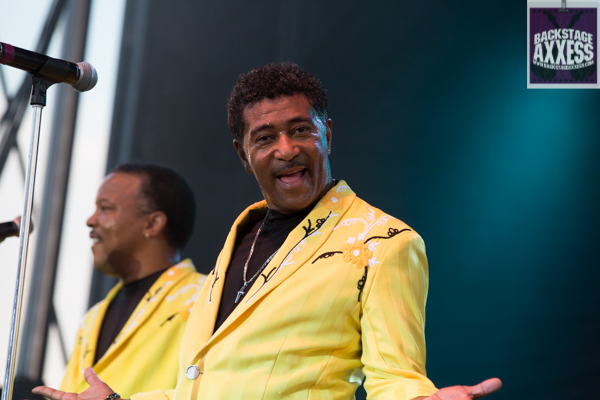 We would like to thank Holly and Lynn at the Erie County Fair for the credentials to review the show.