­     Every year at NAMM brings you the latest and greatest sounds in music. This includes everything from equipment to artist appearances to live performances. This year some of the sights and sounds included  a live performance by RSO (Richie Sambora and Orianthi), the She Rock Awards, various artist booth appearances, and John Mayer doing a press conference at Paul Reed Smith. We happen to be at the right place at the right time as the original and former vocalist of Toto in Bobby Kimball posed with founder and current guitarist Steve Lukather. It was the first time Lukather has seen Kimball in years. They happily obliged for the photo op for us.  Also it was nice to see Tom Petersson of Cheap Trick stop by Reverb booth to see his partner in crime in Cheap Trick guitarist Rick Nielson. We grabbed a quick photo with them. Here are a few photos from our 5 day experience including media day.
­     We will be posting interviews with Rick Nielson of Cheap Trick, Steve Lukather of Toto, Doyle Wolfgang von Frankenstein, The Boxmasters, Michael Sweet of Stryper, Nita Strauss of the Alice Cooper Band, jazz musician Erenza Spalding, artist/producer Butch Walker, drummer Kenny Arnoff and Mick Thompson of Slipknot.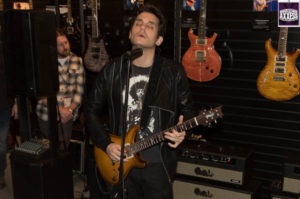 Photos by Gus Griesinger, Diane Daybrow and Suzanne M. Ryan
We would like to thank Jeanne O'Keefe, Chalise Zoelezzi an the entire Lippin Group for the credentials to cover the 2017 NAMM trade show.