Vintage, tried and true, veteran, heavy duty shredding were all out in full force this past week at The Danforth Music Hall in Toronto when Anthrax's king sized tour-bus rolled into town. With this includes all of the face melting metal that fans have come to expect from one of the "Big Four" thrash bands.  The general admission show was completely sold out with fans of all ages coming out to relive and continue to live out their lives according to Scott Ian's guitar and Joey Belladonna's still sweet wailing pipes.
Metalcore stalwarts Killswitch Engage seemed to be almost a co-headliner on this tour aptly named "Killthrax," playing for nearly the same length of opening set as Anthrax.  Singer Jesse Leach hasn't lost any steam in the gutteral screaming throat dept over the years.  They opened the set with the blistering "Hate By Design" from their newest release "Incarnate" and never let up.  Adam Dutkiewicz is one of the goofiest looking guitar superstars you're likely to see tearing it up onstage.  He enjoyed playing through the crowd after spending some time at the soundboard before heading back to the stage during "The End of Heartache".  He never stopped moving the whole show, which must be why he dresses in an athletic tank top, shorts and a white sweatband on his head that read "TRASH".
The band gave the fans a good cross section of their catalog, including standout gems from their major label debut "Alive of Still Breathing" and 2004's "The End of Heartache."  The set ended with Anthrax's Joey Belladonna taking the stage with KsE for a killer version of Ronny James Dio's anthem "Holy Diver."
As the lights went out, the PA fired up with Iron Maiden's "The Number of the Beast," which drove the crowd into a frenzy.  Anthrax took the stage which was decked out with with ramps, raised platforms and a solid lighting rig that harkened back to the vintage stage setups from decades ago.   Scott Ian (now with fully grayed out super long goatee) has remained true to his form looks wise and sound wise since starting the band in 1981.  Opening the show with the title track from "Among the Living," You can tell the band was in serious metal mode and were on target to deliver a fist pounding performance.  Belladonna worked his butter smooth old school metal vocals as if a time machine took us back to those early Anthrax days.  He engaged the crowd by pointing, gesturing and making eye contact while wielding his cut off mic stand.  Bassist Frank Bello worked the down low with reckless head-banging abandon.  He worked in unison with drummer Charlie Benante who was plotted on the riser.  Shadows Fall guitarist Jon Donais has been manning lead guitar duties in Anthrax for 5 years now, a mere blip in this band's storied career. It might as well have been with them all along as he worked seamlessly with Ian and the rest of the band.
The band also worked in a couple of cover's of Scott Ian's former project Stormtroopers of Death track "March of the S.O.D." and French metal band Trust's song "Antisocial."  They ended the set with their hit the crowd favorite "Indians."
Its always a pleasure to see bands really give the fans their money's worth. If you get a chance to check it out this whopping double bill, its a must see for sure!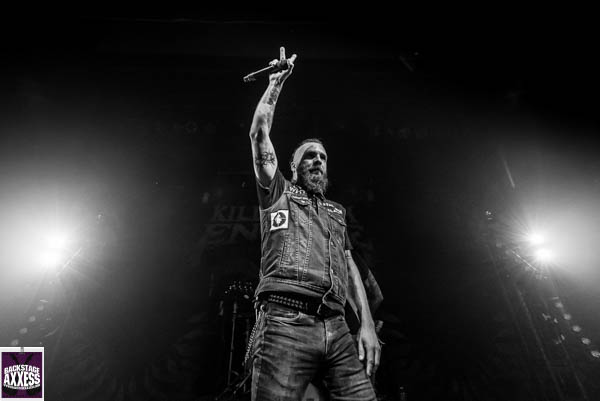 Anthrax Setlist:
Intro (The Number of the Beast)
Among the Living
Caught in a Mosh
Madhouse
Fight 'Em 'Til You Can't
I Am the Law
Breathing Lightning
Efilnikufesin (N.F.L.)
Medusa
March of the S.O.D. (Stormtroopers of Death cover)
Blood Eagle Wings
Antisocial (Trust cover)
Indians
Killswitch Engage Setlist
Hate by Design
Vide Infra
My Last Serenade
Numbered Days
Take This Oath
This Fire Burns
Alone I Stand
A Bid Farewell
Strength of the Mind
The End of Heartache
This Is Absolution
Embrace the Journey…Upraised
Rose of Sharyn
Beyond the Flames
My Curse
In Due Time
Holy Diver (Dio cover with Joey Belladonna on vocals)
We would like to thank Heidi Ellen Robinson-Fitzgerald of Herfitz PR for the credentials to review the show.