Think back to the late 70's and early 80's and try to remember some of your favorite songs. The ones that started your toes tapping or head bobbing and were like an energy shot right from the very first few notes. Well Blondie was one of those artists for me. Blondie ruled the radio and the clubs back then and we couldn't wait to hear what Debbie Harry and Chris Stein would come up with next. The "Rage and Rapture" tour featuring Blondie and 90's alternative band Garbage rolled into the Artpark outdoor stage last Tuesday and the crowd was standing room only to way back up the hill.
The balmy weather and clear blue skies made a perfect backdrop for these two female-led bands. The colorful fans ranged in age from multi-hued hair young teens to lively, seasoned gray Blondie fan club veterans. They were here to see the ladies, Debbie Harry and Shirley Manson. The ladies did not disappoint.
Harry appeared onstage in an eco-messaged cape and a bee costume head piece. "One Way or Another" opened the show with a bang and the band sounded like it was 1980 all over again. Debbie Harry is 72 but sings like she is 32. Her voice is smooth and strong and the original five band members click like a high speed train going down the tracks. Songs like "Hanging on the Telephone" and "Call Me" brought huge roars from the crowd along with the aforementioned toe tapping and head bobbing. You actually saw some earnest attempts at moshing in the pit in front of the stage  but quickly secuirty put a end to that as that is not prohibited at Artpark. Blondie's pop-punk was renewed with some fresh songs off of their new album "Pollinator." "Fun" and 'Fragments" were well received and in true form, were delivered by the band with Harry bouncing about the stage while singing. This night, Debbie Harry could do no wrong. Even her announcement that merchandise proceeds were going to help restore the bee population were met with cheers.
Garbage featuring Shirley Manson opened the show with a powerful set with "Stupid Girl" and "I'm Only Happy When It Rains" as highlights. Manson's fiery orange-red hair flashed in the setting sun as she delivered an enthusiastic, message-laden vocal performance. Not shy about expressing her political views, Manson threw barbs at President Trump and showed her
support for the LGBTQ community.
The powerful message heard tonight was in the music that lives on to this day, and in the two ladies that delivered it.
Blondie setlist:
One Way or Another
Hangin' on the Telephone
Fun
Call Me
My Monster
Rapture
Rainy Day Woman #12 & 35 (Bob Dylan song)
Fragments (Unkindness song)
Too Much
Long Time
Atomic
Hog
Encore:
The Tide Is High
Dreaming
Garbage setlist:
No Horses
Sex is Not The Enemy
#1 Crush
I Think I'm ParanoidCherry Lips (Go Baby Go)
Blackout
Special
Even Though Our Love is Doomed
The World Is Not Enough
Stupid Girl
I'm Only Happy When It Rains
Push It
Encore:
Vow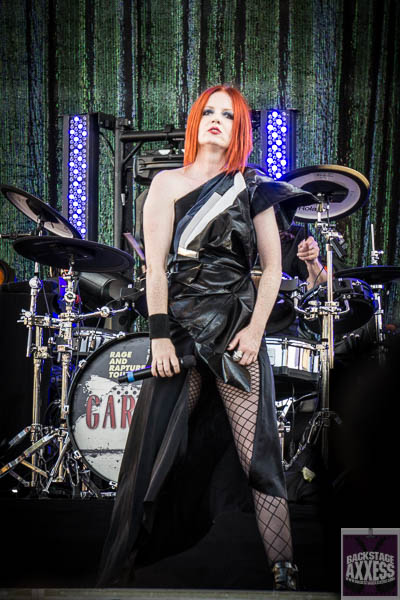 We would like to thank Maria hays for the credentials to review the show.