The Artpark Tuesday Night Concert Series has had some memorable bands from different eras and musical genres. This past Tuesday saw two 80's icons take the outdoor stage, Loverboy and Kim Mitchell. Proximity to Canada has been a boon to the Lewiston, NY venue as many fans crossed the border to enjoy the rock n' roll from their own countrymen. Kim Mitchell opened the evening with a firm set of hits from a long musical career, stretching back to his days in Max Webster. Mitchell has made a solid career as a rock and roller and his songs are classic riff-filled anthems. Opening with "Lager and Ale," a tribute to a bar slob that longs for the dancing girl at the bar, Mitchell showed he has lost none of his guitar chops as the notes were crisp and clear. The long hair may be gone but the skill is still present. "Rockland Wonderland" was next as the crowd started to get into the music, many dancing in the aisles. Reaching a bit further back for a few Max Webster tunes, Mitchell delivered "High Class in Borrowed Shoes" and "Paradise Skies." Then more with "Battlescar" and "Check" both of which had fans playing air guitar and yes, even head-banging along. Every body was waiting for "Go For a Soda" and Mitchel did not disappoint, closing the show with a spirited version. Fans could not get enough and brought him back out for an encore of "Rock and Roll Duty." Kim Mitchell did not reach the heights of fellow Canadians, Rush or The Guess Who but his legacy is still strong enough to put him at the forefront of Canadian classic rock and roll music.
Loverboy took the stage after a short break and jumped into "Notorius" which immediately grabbed the audience and had them moving and shaking. Lead singer Mike Reno, in his trademark bandanna, belted out the tune with a younger man's enthusiasm. His voice is as strong as it was when the band flooded the charts throughout the early 80's with hit after hit. "Lucky Ones" was up next and the aisles looked like a dance club. The success of Loverboy was due to great song hooks and Reno's strong voice and fashion-model good looks. That combination has kept them on the radio for almost 40 years. "It's Your Life" and "The Kid Is Hot Tonight" followed and guitarist Paul Dean and keyboardist Doug Johnson were right on point with their playing. Many bands take a creative license when playing shows night after night but not Loverboy. Their performance was faithful to the original recordings. Fans singing and dancing along knew the songs by heart, and were acting like teens singing into a hairbrush in front of the bathroom mirror. It was great to see a crowd get lost in the moment and act like kids again. The band stretched their chops on extended solos which showed their musical prowess. The closing tunes of "Turn Me Loose" and "Working For The Weekend" were the perfect ending to this throwback show. The screams brought the boys back for a rollicking encore of "Lovin Every Minute Of It" and the crowd left tired and happy.
The trip down memory lane continued into the parking lot as many fans were singing Loverboy tunes on the walk out. It was a fitting end to a night of good Rock and Roll.
Loverboy Setlist
Notorious
Lucky Ones
Queen of the Broken Hearts
Take Me to the Top (with "Riders on the Storm" The Doors)
It's Your Life
This Could Be the Night
The Kid Is Hot Tonite
When It's Over
Hot Girls in Love
Drum / Bass / Keyboard Solo
Turn Me Loose
Working for the Weekend
Encore:
Lovin' Every Minute Of
Kim Mitchell Setlist
Lager and Ale
Rockland Wonderland
High Class in Borrowed Shoes (Max Webster song)
Paradise Skies (Max Webster song)
I Am A Wild Party
Easy To Tame/Battlescar
Check (Max Webster song)
All We Are
Go For A Soda
Encore:
Rock n Roll Duty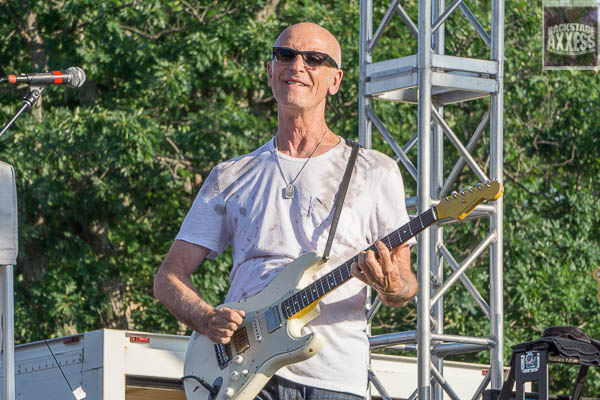 We would like to thank Maria hays for the credentials to review the show.