Nothing screams summer louder than Vans Warped Tour and this past Thursday the festival made its annual stop in Charlotte. Thousands of fans were lined up outside PNC Music Pavilion braving the heat as they waited for the gates to open in anticipation of a full day of music and mayhem. The layout for this year's festival was slightly different than in years past which really helped with the flow of people and made it much, much easier to get from point A to point B as the day progressed. With seven stages cranking music all day long, it's impossible to see and hear everything so festival goers can either purchase a schedule or check out the giant Vans board which has the band's set times and map out a game plan for the day. There truly is something for every rock fan with everything from metalcore to rap on the lineup. With so many bands on the tour, Warped Tour is a great opportunity to check out a variety of bands and hear some new acts that you might otherwise never get the chance to hear. Attendees also have access to band autographs at special signings throughout the day and the opportunity to check out all the different vendors selling their wares.   The tour is also very supportive of all the different charitable organizations that set up during the festival. If interested, one can learn about or become involved with anything from animal rights organizations to hunger relief programs.
As soon as the music started, I took off with map in hand and began my day. I decided to start on the outdoor stages before the heat really kicked in taking in the up and coming pop rock group Jule Vera first. With lead vocalist Ansley Newman's beautiful voice and songs full of melodic hooks, the band is sure to gain a huge following. A.J. Channer and Fire From The Gods didn't waste any time tearing up the Hard Rock stage with a mind melting performance that left fans salivating for more. Things got really insane when Attila took the stage. The crowd erupted and began crowd surfing at a frenzied pace as lead vocalist Fronzilla whipped them into a frenzy.   What a way to start the day! Next up, I headed to the main amphitheater to check out Barb Wire Dolls. I heard a lot of great things about the band being that they were originally signed to a deal by Lemmy Kilmister himself and was anxious to see what they were all about. The band had a great sound with a punk rock meets grunge vibe and a great look with the beautiful Isis Queen on vocals. Another highlight of the afternoon took place on the Journey's Right Foot Stage with Andy Black making an appearance. Andy of course is known for being the lead vocalist of Black Veil Brides but is venturing out on his own and touring with his own band on theis year's Warped Tour. A true performer and consummate professional, Andy always puts on a great show. I hate to say it but with his solo career going so well and a movie coming out this fall titled "American Satan," could Black Veil Brides' days be numbered? I hope not, but either way rest assured that we will be seeing a lot more of Andy one way or another in the future.
One of the bands I was really looking forward to seeing was the punk rockers of Anti-Flag. Led by guitarist and vocalist Justin Sane, the punkers put on a great set getting the crowd involved and really lighting things up. Unfortunately by the start of their third song, the black clouds were really rolling in and I decided to hightail it back to the main ampitheatre under the roof to stay dry. It proved to be a good call because shortly thereafter the winds picked up to about 50 miles per hour and the rain came down in a deluge. The fans outside were evacuated and the outdoor stages postponed until the storm passed by. But in the mean time, I was able to check out several bands as the covered stages kept right on going including Hands Like Houses, Microwave, and Street Dogs. What I was really waiting for was the pirates of Alestorm to storm the stage and lead the crowd into a fun, pirate metal party and they did not disappoint. The Scottish band was loud and proud and having a blast as frontman Christopher Bowes pumped his fist in the air wearing his red and black kilt jamming on his keytar. It was a great performance and I was glad I didn't miss it. The post hardcore of Dance Gavin Dance capped things off with a solid performance. Their set was intense with two vocalists ramping things up as Tilian Pearson handled the cleans and Jon Mess the uncleans. The fans had filled the pit to capacity and seemed to be having an excellent time whether surfing toward the barricade or jumping up and down. Most had been waiting all day to hear their favorite band and Dance Gavin Dance made it worth the wait.
Due to the earlier storm, I wasn't sure what the schedule was for the Mutant stages so I headed back to the parking lots to check things out. Things were running about one set behind schedule so I was able to catch the Brooklyn metal band Candiria. The band really has a unique sound blending metal with elements of jazz, hip-hop, and even progressive rock making it an interesting set. The shock rock of Gwar was up next and even though the band has no original members left, they are carrying on the Gwar tradition in fine fashion. As the stage crew passed out ponchos and plastic to security, it was clear that Gwar was going to bring the blood and bring the blood they did. Their fantastically gory show had the band come out in their over the top costumes and included a beheading with all the requisite blood, a disemboweling of a Donald Trump character, and of course vocalist Blothar's blood shooting penis. The final band of the evening was the hardcore punk and metal of Hatebreed. Hatebreed has been kicking ass since the mid-90's and show no signs of slowing down. Jamey Jasta has never sounded better and guitarists Frank Novinec and Wayne Lozinak were in absolute beast mode. They put in a rousing set and as the circle pits were still going strong, I started making my way to the exits. It was a fantastic way to end a fantastic day of music as only Vans Warped Tour can provide.
Hatebreed Set List:
Destroy Everything
I Will Be Heard
Locking Down The Barrel of Today
To The Threshold
Proven
Honor Never Dies
Doomsayer
Empty Promises
Perseverance
As Diehard As They Come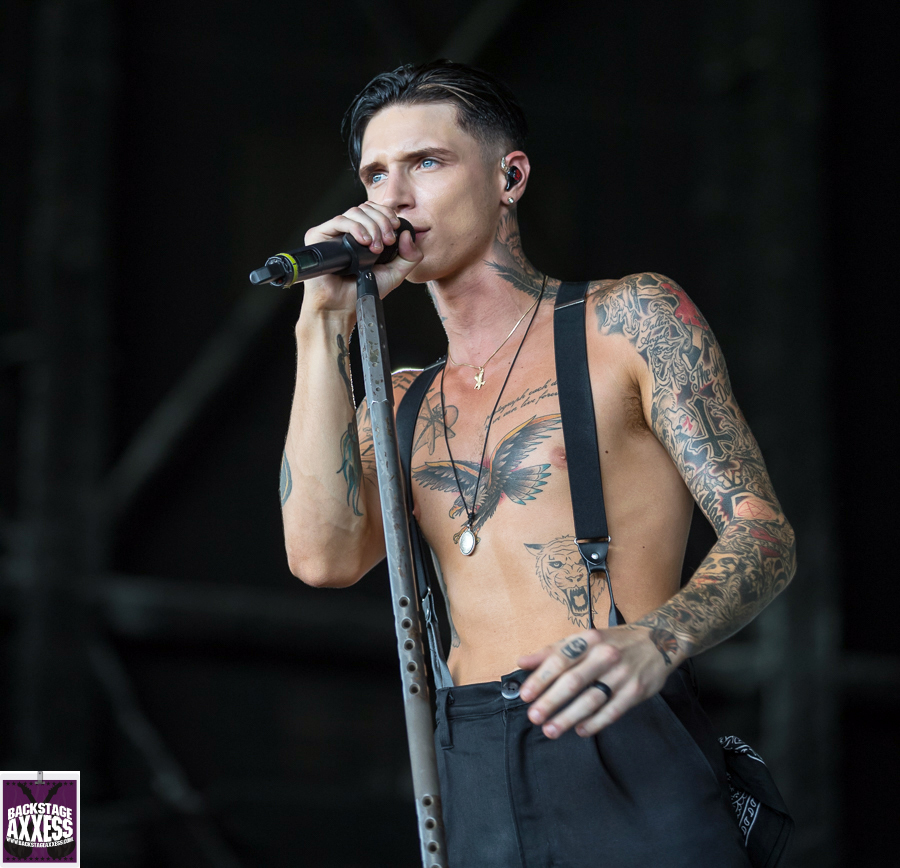 We would like to thank Becky Kovach from Big Picture Media for the credentials to review this year's festival.