There's something quite addicting about attending live concerts. Of course there is the fantastic music, dazzling light shows, and hanging out with friends, but every once in a blue moon something special happens. The crowd becomes one with the music, listening, singing, and dancing in a veritable communion of souls. Those shows are not just concerts but experiences and that is exactly what happened this past Sunday at the PNC Music Pavilion as Counting Crows and Matchbox Twenty roll into Charlotte on "The Brief History of Everything" tour.
The second that Counting Crows hit the stage opening their set with "Hard Candy" you could sense that something extraordinary was about to happen. Frontman Adam Duritz led the band through an interesting set which included some of their biggest hits
like "Mr. Jones" but surprisingly left out fan favorite "Round Here" and even threw a curveball or two with a unique rendition of Joni Mitchell's "Big Yellow Taxi."  The light show was amazing, probably the biggest lighting rig of the summer so far and the band was on top of their game. These guys have been together for so long that their actions on stage are second nature as the interact with one another.
There was a barrage of instruments on the stage with a piano, keyboards, and various string instruments. Keyboardist Charlie Gillingham came out front and center with the accordion for "Omaha" while guitarist David Immergluck brought out the mandolin. By the third song of the set, the fans were in the moment and Duritz took a seat at the front of the stage atop one of the speakers giving him a chance to get up close and personal with the lucky fans down front. A highlight of their set was a poignant performance of "A Long December" which had Duritz at the piano giving a little background on the writing of the song inspired from visiting an ill friend in the hospital leaving many tears streaming down many faces. The mood quickly changed to upbeat as everyone was on their feet as "Mr. Jones" and "Hanginaround" closed out their set. The band returned for a two song encore of "Palisades Park" and "Rain King" leaving the audience aching for more.
After a brief break, it was time for the final act of the evening, Matchbox Twenty.  Screams of we love you Rob could be heard as the lights went out and the band appeared in silhouette before the lights kicked on and lead singer Rob Thomas became visible front and center as the band rocketed into "Real World" and "Girl Like That." The band was solid with lead guitarist Kyle Cook providing riff after melodious riff but this was really all Thomas's show as he danced, slid, ran, and posed over every inch of the Pavilion's stage. Thomas has a powerful vocal range and he sounded better than ever hitting every note effortlessly. The setlist was
heavy with hits from their debut album "Yourself or Someone Like You" and the crowd ate it up like a kid in a candy store. After a hefty 17 song set, Matchbox Twenty returned for a four song encore including one of their biggest hits "3 A.M" before exiting the stage leaving the audience physically and emotionally drained on that hot and humid Carolina night.
Emotions were high as fans began exiting the venue as music once again became the common denominator uniting people from all walks of life in a celebration that would live on in their hearts and souls.
Matchbox Twenty Set List:
Real World
Girl Like That
She's So Mean
Bent
Downhill (with a snippet of Bob Dylan's "Knockin' On Heaven's Door)
If You're Gone
Hand Me Down
How Far We've Come
Disease
Mad Season
Radio
So Sad So Lonely
English Town
Hang
Unwell
Back 2 Good
Push
Encore:
Don't You (Forget About Me) (Simple Minds cover)
3 A.M.
Long Day
Bright Lights
Counting Crows Set List:
Hard Candy
Omaha
Dislocation
Colorblind
Four White Stallions
Miami
When I Dream of Michelangelo
Goodnight Elisabeth/Pale Blue Eyes (The Velvet Underground cover)
Big Yellow Taxi (Joni Mitchell cover)
A Long December
Mr. Jones
Hanginaround
Encore:
Palisades Park
Rain King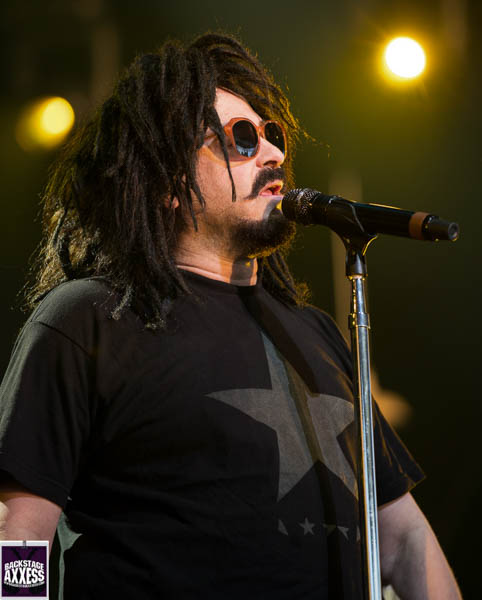 We would like to thank Kim Shiver from Livenation for the credentials to review the show.