The funkiest tour this summer is the combination of both Earth, Wind & Fire and the newly minted Rock and Roll Hall of Famer Nile Rodgers with his band Chic. The perfect pairing brought more than the funk to the Prudential Center this past Friday night.  They brought smiles, much dancing and more importantly, a chance for most of the attendees to relive a part of their youth.
First up was Rodgers,  who was accompanied by an amazing set of musicians in his band Chic.  Rodgers, who is not only known for his musical contributions with his band Chic, but is also regarded as one of the top producers in the music business.  Rodgers gave a taste of a wide array of music from the artists he has worked with.  Songs from Diana Ross, Sister Sledge and the  iconic David Bowie were a part of the highly entertaining and energetic set.  Rodgers co-produced this album with Bowie and his take on "Let's Dance"  sounded if Bowie's presence was still in the room. The song gave you chills…it was that good!  His drummer handled vocals on the track and did a commendable job!
Rodgers also talked about his mom being from New Jersey and also mentioned how he battled cancer and playing again was a dream come true for him.  Rodgers and Chic ended their set up 2 tracks that really defined the disco era in "Le Freak" and "Good Times."
Next up was headliner Earth, Wind & fire. The 12 piece band consisted of 3 original members Ralph Johnson, Phillip Bailey and Verdine White. They were all showcased throughout their 90 minute set.  With a history that spans over 5 decades, the band  had a lot of material to choose from. Thy primarily stuck to lots of the classics and the fans didn't mind.  Bailey was accompanied by B. David Whitworth and also by his son Phillip Bailey Jr on vocals. They contributed with both leads and harmonies. Johnson handled vocal harmonies and percussion. White handled bass duties and was all over the stage. They dedicated "Hose of Fire" to the memory of their former bandmate Maurice White.  Bailey showed he still has the vocal chops as his range on "Reasons"  still was able to reach peak level.
The stage was very low and the center came out so it gave the members an opportunity to really get close with their fans. The original members made use of this  throughout their set.  Of course EWF have their own disco hits as well and "Boogie Wonderland"  and "September" brought out a lot of grooving with people letting loose in the aisles and in front of their seats.
What a show this was and the bands management did wonderful job putting this package together. This could be the show of the summer so make sure your dancing shoes are ready to go as both acts will get you up on your feet!
Earth, Wind and Fire setlist:
Shining Star
Getaway
Sing a Song
On Your Face
Serpatine Fire
Kalimba Story
Can't Hide Love
Keep Your Head to the Sky
Devotion
That's the Way of the World
Beijo (Interlude)
After the Love has Gone
Reasons
September
Boogie Wonderland
Let's Groove
Encore:
Fantasy
In the Stone
Chic (Featuring Nile Rodgers) setlist:
Everybody Dance
Dance, Dance, Dance (Yowsah, Yowsah, Yowsah)
I Want Your Love
Upside Down (Diana Ross cover)
I'm Coming Out (Diana Ross cover)
We are Family (Sister Sledge cover)
He's the Greatest Dancer (Sister Sledge cover)
Getting Jiggy With It (Will Smith cover)
Let's Dance (David Bowie cover)
Get Lucky (Daft Punk cover)
Le Freak
Good Times/Rappers Delight (The Sugar Hill Gang cover)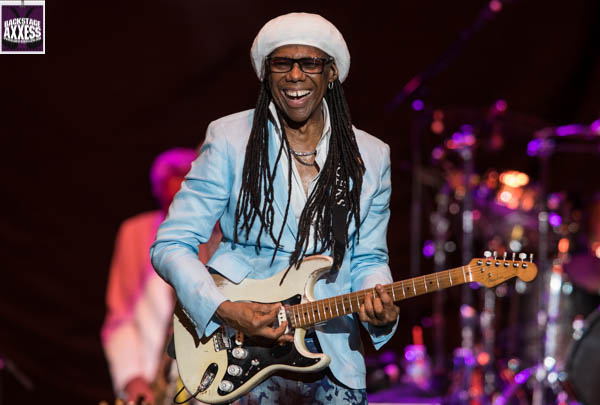 We would like to thank Natasha Desai from LAN-ENT for the credentials to review the show and and Chloe Newland and her associates from the Prudential Center for their hospitality.