The United We Rock tour made its as through the Western New York are this past Friday night as REO Speedwagon and Styx co headlined the outdoor stage at the Seneca Niagara Casino. On this night REO Speedwagon were the headliners as they take turns alternating on the current tour.
These bands define what classic rock is. They both have a storied history; they both have plenty of radio friendly hits and both have defined what arena is all about. The casino usually enjoys putting on a few shows outdoors but decided to do one weekend of back to back shows. The makeshift stage as set up for about 4,500 people which was sold out easily.
Styx were up first. The band has anew album called "The Mission." This is the first release in 14 years and why not open the set with which sounds like a Styx classic already in "Gone, Gone Gone." Terrific song that blends in with the other mainstays they have. Their rhythm guitarist and vocalist Tommy Shaw talked about how proud they were to make this record. Lead guitarist JY Young, keyboardist and vocalist Lawrence Gowan and bassist Rickey Phillips were all over the stage. They talked about their classic album "Grand Illusion" and how they play a handful of tracks from it. Gowan joked around with the crowd as he was saying "you guys are rocking so hard, make sure you have enough of it left for KISS tomorrow night." The stage was set up with a space theme where there were a lot of outer space visuals. Also accompanying the guys I mentioned was Todd Sucherman on drums ( Longtime bassist and original member Chuck Panozzo didn't make the show.) "Radio Silence" was the 2nd track they played for the mission. Again, the melodies on this track are very much within that traditional Styx classic sound. It's very rare to see a band not rest on their laurels or put out sub-standard material but Styx continues to defy the odds.
REO Speedwagon were up next and had a hard time matching the enthusiasm and energy that Styx showed earlier. The band has had a consistent lineup for over 28 years in Guitarist/and vocalist Kevin Cronin , keyboardist Neal Doughty, bassist Bruce Hall, guitarist Dave Amato and drummer Bryan Hitt. You can see how tight the band sounds musically in songs like "Don't Let Him Go" and "Time for Me to Fly." Cronin's voice held up as he could go back between REO's more subtle tunes to their more heavier songs like "Don't Let Him Go" and "Ridin the Storm Out." Amato is a solid no frills guitar player who proficiency allows the rest of the guys to experiment a little bit. Hitt says what his name implies. He's one of the harder hitting drummers out there. Again, the set didn't match Styx but the crowd seemed to enjoy them as much as Styx. This match was perfect for classic rock enthusiasts.
REO Speedwagon setlist:
Don't Let Him Go
Keep Pushin'
Can't Fight This Feeling
Tough Guys
Whipping Boy
That Ain't Love
Take it on the Run
Like You Do
Time for me to Fly
Back on the Road Again
Ridin' the Storm Out
Keep on Loving You
Roll With the Changes
Styx setlist:
Gone, Gone, Gone
Blue Collar Man
Grand Illusion
Lady
Light Up
Radio Silence
Miss America
Fooling Yourself
Too Much Time
Come Sail Away
Encore:
Rockin' The Paradise
Renegade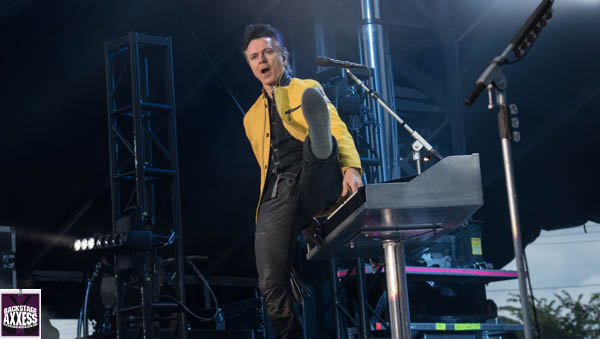 We would like to thank Amanda Cagan from ABC Public Relations, Brooke Paller from Scoop Marketing and Nadine DiStefano from the Seneca Niagara Casino for the credentials to review the show.