A Metal fans dream took place in more ways than one this past Tuesday night in Newark, NJ. Judas Priest's "Firepower" tour came through and they brought their friends Black Star Riders and Saxon with them. Both Priest and Saxon have come out with very recent albums and BSR last effort has been a little over a year ago The Prudential Center was full with manic metal heads and all the 3 bands were ready to wet their appetite.
Up first was Black Star Riders. For fans of Thin Lizzy, this is the incarnation of that band as they morphed into BSR in December of 2012. Led by Thin Lizzy guitarist Scott Gorham, the band played a short but strong 8 song set. The band concentrated on BSR material and thrown in a classic Thin Lizzy track for good measure. Vocalist/ guitarist Ricky is a perfect fit for BSR with his strong vocals and complimenting rhythm guitar playing. BSR also includes Damon Johnson on co lead guitar, Robby Crane on bass and Chad Szeliga on drums. Their set consisted of a good mix of songs from all 3 of their albums.  Too bad they only got a short stint but hoping that they were able to get more fans to gravitate to what they are doing.
Up next was the legendary Saxon. Saxon has been touring a little more as of late in the US but hasn't done a slot on a major tour in arenas in quite a few years. Still led by the powerful Biff Byford, the band still resonates with metal fans after all these years. On tour of their recent release "Thunderbolt," they played a head banging 11 song set. Saxon played 3 new songs including the title track and dished out their 2 biggest hits in "Denim and Leather" and "Heavy Metal Thunder." Byford vocals still sound solid after almost 40 years in the business.
What everyone was waiting for, taking the stage at 9:10pm, the mighty Judas Priest. As mentioned earlier, the band just released their 18th studio effort in "Firepower." The release garnered widely critical acclaim.  Unfortunately, there has been change to the lineup as founder and guitarist Glenn Tipton had to bow out right before the tour due to his Parkinson Disease. He was officially diagnosed in 2008 but just came out about this diagnosis for the first-time last month.  He handpicked Andy Sneap who produced "Firepower" to be his replacement on this tour. Sneap did an admirable job as the rhythm guitar player. Richie Faulkner handled all leads throughout the set and was well up to the task. You can tell he has injected a youthful enthusiasm since he has joined the band in April of 2011.
The band has an unmistakable rhythm section as longtime drummer Scott Travis and original bassist Ian Hill continue to provide the pounding beats. With this consistency, the bands ringleader and one of the best vocalists (in any genre of music) on the planet in Rob Halford can do what he does best. That's deliver a flurry of tempered vocals with a consistency of melody that most singers cannot match. His range on songs like "Painkiller" is undeniable. It's just amazing how he can deliver notes in various octave ranges with conistency. He moved about the stage and changed leather jackets throughout the set. Other songs that showcased Halfords vocal capabilities were "Saints in Hell" and "Evil Never Dies." A few classic songs like "Heads are Gonna Roll" were dusted off and brought back into the set which appeased longtime band followers. Halford came out with his Harley before the band dove into "Hell Bent for Leather."
The moment that everyone raised and stood for was the unexpected appearance of Tipton for the bands encore. Tipton, who is moving slower due to the disease, gave his all and earned the respect not only from the crowd but his bandmates as well. He got center stage and started the lead into "Metal Gods."  He joined in and swayed with Faulkner and Sneap when the band were playing the guitar parts for "Breaking the Law." He even went to the side stage to look out and acknowledge the crowd and throw some picks out at the end of the set to some very lucky fans. He then joined his bandmates for a bow before exiting stage left. Tipton said he may pop up here or there to make an appearance but I think these will be few and far in between making his showing at the Prudential Center one for the ages.
Priest has put out one of their finest releases in years and the tour is a solid as anything they have ever done. It's a good song selection as they included a wide array of classic cuts and some deeper tracks as well. Halford's vocals are still second to none and with the Faulkner now leading axeman, they are still showing they are one of the premier metal bands out there.
Judas Priest setlist:
Firepower
Running Wild
Grinder
Sinner
The Ripper
Lightning Strike
Bloodstone
Saints in Hell
Turbo Lover
The Green Manalishi (With the Two Prong Crown) (Fleetwood Mac cover)
Evil Never Dies
Some Heads are Gonna Roll
You've Got Another Thing Coming
Hell Bent for Leather
Electric Eye
Painkiller
Encore:
Metal Gods
Breaking the Law
Living After Midnight
Saxon setlist:
Thunderbolt
Power and Glory
Nosferatu (The Vampires Waltz)
Motrcycle Man
The Secret of Flight
Dallas 1pm
They Played Rock and Roll (Sons of Odin snippet)
Crusader
Princess of the Night
Denim and Leather
Heavy Metal Thunder
Black Star Riders setlist:
All Hell Breaks
Jailbreak
Heavy Fire
Soldierstown
Killer Instinct
When the Night Comes In
Kingdom of the Lost
Bound for Glory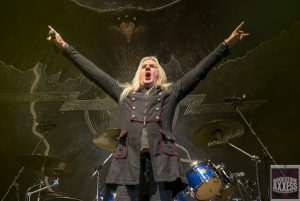 We would like to thank Chip Ruggieri from Chipster PR for the photo pass and Doug Weber from Weber PR for the ticket to review the show.