With over eighty million albums sold worldwide, Foreigner has been a dominant force in the world of rock and roll for over forty years.  Their iconic 1977 self-titled debut record spawned numerous hits including classic rock tracks "Feels Like The First Time" and "Cold As Ice." If you tuned in to any album oriented rock station in the world in the late seventies and eighties,  you were bound to hear a Foreigner song.   Since then the band has gone through major lineup changes most notably the departure of lead vocalist Lout Gramm, leaving  lead guitarist Mick Jones the only original member left.  In its current form, Foreigner also features long time members Kelly Hansen on lead vocals, former Dokken bassist Jeff Pilson, and Thom Gimbel on rhythm guitar and sax.  The band is currently out on the "Juke Box Heroes" Tour along with eighties rockers Whitesnake and made a stop at the Heritage Park Ampitheatre in Simpsonville, SC this past Sunday. It was a beautiful and unusually cool evening in South Carolina, absolute perfect weather for an outdoor show as Whitesnake took the stage to a growing crowd with  a steady line of people entering the venue.
Kicking off their set with "Bad Boys," Whitesnake clearly came to rock and give the fans a stellar performance.  Led by original lead vocalist David Coverdale,  Whitesnake tore through hit after hit with all the vim and vigor of years gone by.  The current lineup features not one but two of rock and roll's elite guitarists in Reb Beach and Joel Hoekstra.  The pair traded licks all evening long including an extended solo for a true guitar duel.   Hoekstra is also an outstanding showman posing on bended knee and holding his guitar up for all to see.  Veteran drummer Tommy Aldridge kept a driving pace behind the kit as Coverdale proved he still had the vocal chops to carry even the highest of notes on the hit anthem "Here I Go Again."  The epic "Still of the Night" capped off their set and had the crowd on its feet showing the younger people in the audience that great music will never go out of style.
After a short break,   the stage lights went dim as a spotlight shone at the rear of the stage on Mick Jones as the opening guitars of "Long, Long Way From Home" whipped the crowd into a frenzy.   Lead vocalist Kelly Hansen began to sing the opening line "It was a Monday, a day like any other day"  yet  it was clear that this day would not be  like any other day as Foreigner was about to take their fans on a timeless journey through radio rock history with a set list of one hit after another.  Everything about the performance was top notch from the sound quality to the light show to the talented members of the band.  Thom Gimbel jammed  on his saxophone while Jeff Pilson kept the bass lines firm and solid.  After opening with four back to back rockers, Foreigner slowed it down for the ballad "Waiting For a Girl Like You" which Hansen dedicated to all the lovely ladies in the audience.   Things didn't stay quiet for long as the band ripped into one of my favorites "Dirty White Boy" and asked those over forty in the audience to remember the first time they fell in love before launching into "Feels Like The First Time."  Guitarist Mick Jones is known for his outstanding leads and brilliant songwriting abilities but it was his vocals that took center stage for a poignant rendition of the Foreigner classic "Starrider."
The set ended with a bang with one of the band's biggest and most loved songs "Juke Box Hero" which featured a drum and keyboard solo as well as Hansen out in the audience on a raised platform midway between the reserved seats and the lawn.  Nobody wanted the night to end and Foreigner had something special up their sleeve as they returned for a  two song encore.  A local school choir came on stage for "I Want To Know What Love Is" as couples embraced and swayed in the aisles before the band took it up one more notch for a fiery version of "Hot Blooded" that had fists pumping in the air.
It was an epic night of classic hard rock that would not be soon  forgotten.  A big thanks goes out  to both Foreigner and Whitesnake for letting us relive some of the best times of our lives, when we were free from the grind of day to day life and all that mattered was the music.
Foreigner Set List:
Long, Long Way From Home
Double Vision
Head Games
Cold As Ice
Waiting for a Girl Like You
Dirty White Boy
Feels Like the First Time
Urgent
Starrider
Juke Box Hero
Encore:
I Want To Know What Love Is
Hot Blooded
Whitesnake Set List:
Bad Boys
Give Me All Your Love
Love Ain't No Stranger
Slow an' Easy
Guitar Duel
Crying in the Rain
Is This Love
Slide It In
Here I Go Again
Still of the Night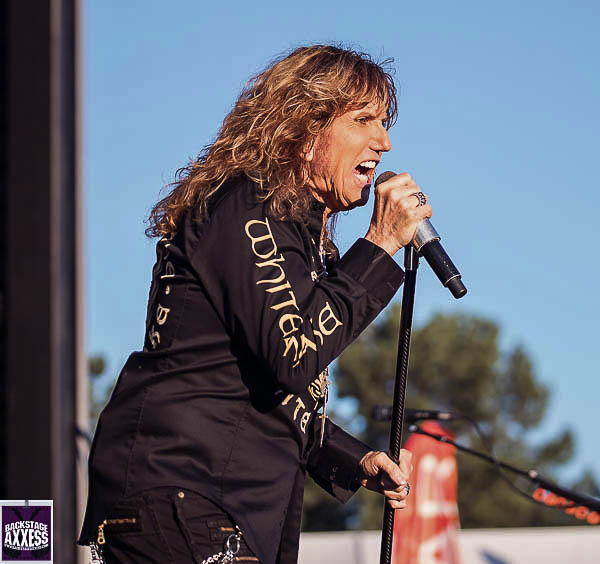 We would like to thank Kim Shiver from Livenation for the credentials to review the show.