The evening air was hot last Tuesday as two veterans of rock n roll appeared on Artpark's outdoor stage in Lewiston NY. Peter Frampton and Steve Miller took the stage in a double-barrel shot of classic rock tunes that promised to fire up the crowd even more than the recent heat wave. Frampton took the stage first and led off with "Baby (Somethin's Happening)" from the 1974 album of the same name. This got the crowd into it right from the start.  Frampton responded by playing extended solos and allowing band members to jam with him to the delight of fans in attendance. Using a mix of songs from early and recent albums, Frampton showed his range of style throughout his set. He mentioned before playing "Lines On My Face" that he plays that song at every show. In this deeply personal song about a breakup, Frampton showed a vulnerability that many musicians experience because of their time on the road away from loved ones.
He dedicated "Black Hole Sun" to friend Chris Cornell and played an emotional solo that left the crowd mesmerized. "Money" saw Frampton and fellow guitarist Adam Lester trade licks in and extended version. Frampton's guitar playing was strong and his vocals have not lost their range. Switching to an acoustic guitar for "Baby, I Love Your Way," Frampton was in the spotlight and gave the crowd a chance to sing along with him. He reached back to his Humble Pie days with "4 Day Creep." This was a highlight of the evening for many in the crowd that were Pie fans like myself. Frampton finished with his biggest hit "Do You Feel Like We Do" in the full 15 minute album version with Talk Box and solos with each band member taking part. Before his exit, Frampton praised the crowd and called this his favorite place to play in the area. He promised to be back and left the stage wiping the sweat from his face.
After a short break, Steve Miller took the stage for an extended set that included all of his biggest hits and a few surprises thrown in for good measure. "Abracadabra" and "Space Cowboy" brought out the cheers for the crowd early in the set. Miller positioned himself center stage, dressed in all black with his signature shades, and drove the band through the set which was hit after hit.
A nice surprise mid-show was the re-appearance of Peter Frampton to play two blues tunes with Miller and his band. Both showed some great guitar chops and traded vocals as well. Miller's long set continued and built to a high point as he finished the night with a string of his biggest songs including "The Joker," "Jungle Love," and Keep On Rockin' Me Baby." The crowd, already exhausted from the heat, rose to the occasion and sang and danced until Miller left the stage. After a loud round of applause and shouts of "one more song," Miller took the stage for a two song encore of "Fly Like An Eagle" and "Jet Airliner." The crowd responded with a loud, extended ovation as Miller finally exited.
A long, hot night came to a close and the packed crowd filed out slowly as if they wanted the night to continue. Both Miller and Frampton, who have played over 70 shows together, promised to be back soon. If this tour comes to your town make sure you get in to see this great throwback show of two artists who are still entertaining fans after 50 years of making music.
Steve Miller setlist:
The Stake
True Fine Love
Abracadabra
Livin' In The USA
Space Cowboy
Same Old Blues (with P Frampton)
Stranger Blues (with P Frampton)
Brave New World
Serenade
Wild Mountain Honey
Dance, Dance, Dance
The Joker
Take The Money and Run
Jungle Love
Swingtown
Keep On Rockin' Me Baby
ENCORE
Fly Like An Eagle
Jet Airliner
Peter Frampton setlist: 
Baby (Somethin's Happening')
Lying
Lines On My Face
Black Hole Sun
Money
Baby, I Love Your Way
4 Day Creep
Do You Feel Like We Do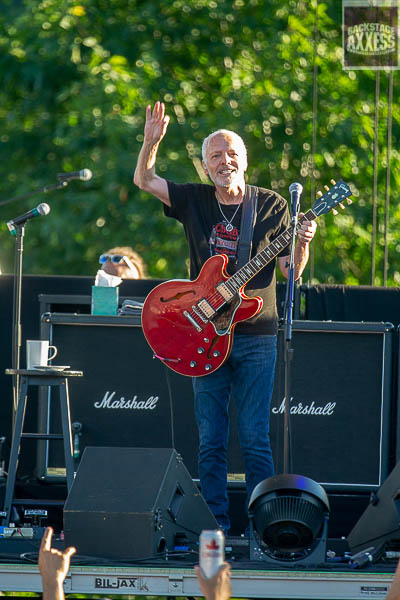 We would like to thank Wedekindt from Artpark for the credentials to review the show.