A night of dance and fun filled the KeyBank Center this past Friday as Cher with Nile Rodgers & Chic graced the stage to take the fans on musical historical journey.  The mature crowd were eager to be taken back in time by both of these artists. They both proved they were more than capable of doing that on this night.
First up was Nile Rodgers & Chic. Nile is one of the most accompanied musicians on the planet. He has been inducted into the Rock and Roll Hal of Fame, Songwriters Hall of Fame and the Dance Hall of Fame. Besides these feats, Rodgers has worked with Diana Ross, Sister Sledge, Daft Punk, David Bowie and Duran Duran to name a few. He is the go to guy if you want to make a great dance record if you ask me.  Rodgers was the perfect antidote for the evening's festivities as he ladened the crowd with a retrospect of his entire career.  Some of the cover songs he played included "Bowie's "Lets Dance," Sister Sledge's "He's the Greatest Dancer" and "We Are Family." He also played some originals including "Everybody Dance" and of course his biggest hit "Le Freak."  Rodgers d& Chic delivered a high octave set which got the crowd going and ready for the headliner Cher.
One of the original divas Cher descended from the top of the stage at 9:27pm for her 2013 hit "Woman's World." Of course Cher is known for her elaborate costumes and on this night, she didn't disappoint. She went through many wardrobe changes including her 60's look and the outfit she wore on the "Turn Back Time' video.  This show was different from her previous shows that have been nearly identical over the last 15 years. This show she mixed in a Cirque du Soleil type of dance routine, changed up the setlist some and also told a story that lasted about 13 plus minutes (between the 2nd and 3rd songs). She talked about her looks and how proud that at 73, she is still doing what she loves and ended her monologue by staying "What's your granny doing tonight?"
One of the highlights of her set is always the "I Got You Babe" where she sings to a video screen with her former husband and mentor Sonny Bono.  I was surprised that no one through any sailor hats on stage for "Turn Back Time" (to mimic the video. The last time she played in Buffalo, she had her pick of the litter as there were so many tossed up.  She closed with her set with the encore "Believe" in which she went around the stage one last time singing and waving to everyone before she disappeared while the band kept playing.
What was missing though were some of her hits like "Half Breed" and "Gypsy, Tramps & Thieves" as those were omitted to bring in the songs off of her 2018 Abba covers album.  Balancing the setlist is always a tough task and especially for artists who have long spanning successful careers. I think the fans would have preferred the Cher's songs rather than the other.
Cher continues to pack them in no matter the age or what the current musical fad is. The crowd loved her and even though she joked she is on here last final "Farewell Tour," the crowd answered no in overwhelmingly collective voice. Cher responded "well I don't know how much longer I can do this?" Well, if she continues to do this I'm sure  the crowd will be there in eager anticipation for her that's for sure!
Cher setlist:
Woman's World
Strong Enough
Gayatri Mantra
All or Nothimg
The Beat Goes On (Sonny & Cher song) 
I Got You Babe (Sonny & Cher song) 
Welcome to Burlesque
Waterloo (Abba cover) 
SOS (Abba cover) 
Fernando (Abba cover) 
After All
Walking in Memphis (Marc Cohn cover) 
The Shoop Shoop Song (It's in his Kiss -Betty Everett cover)
Guitar solo (Bang Bang (My Baby Shot me Down) 
I Found Someone (Michael Bolton cover)
If I Could Turn Back Time
Encore:
Believe
Nile Rodgers & Chic setlist:
Everybody Dance (Chic song)
Dance, Dance, Dance (Yowsah, Yowsah, Yowsah – Chic cover)
I Want Your Love (Chic cover) 
I'm Coming Out/Upside Down (Diana Ross covers)
He's the Greatest Dancer/We Are Family (Sister Sledge covers) 
Get Lucky (Daft Punk cover)
Let's Dance (David Bowie cover)
Le Freak (Chic song)
Good Times/Rappers Delight (The Sugarhill Gang)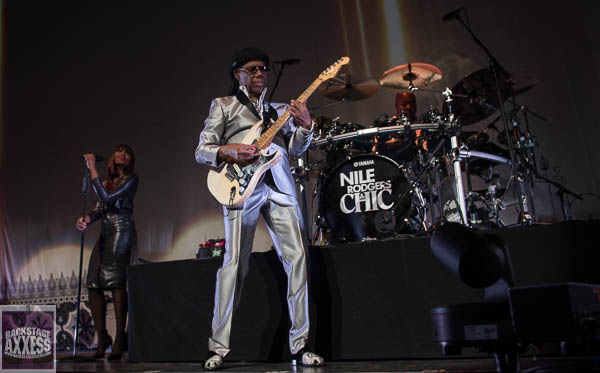 We would like to thank Lily Simpson from Warner Brothers for the credentials to review the show.