Michigan melodic death metal outfit The Black Dahlia Murder recently played the Sonic Temple Art + Music Festival in Columbus, OH. While most of the bands playing the festival can be heard on mainstream rock radio, TBDM makes music that could not be further from that. TBDM delivered their extreme brand of metal to Sonic Temple attendees and frontman Trevor Strnad made damn sure that he did all he could to make as many lifetime fans as possible from their 30-minute set.
Following their performance, Strnad took some time to talk about his thoughts on playing Sonic Temple, his favorite recent horror movie, and why he loves reviewing underground metal albums. Strnad also provided some information on TBDM's new album which will be the follow-up to 2017's Nightbringers.
SP: Hi Trevor, thanks so much for talking with us at BackstageAxxess. The band's latest album is "Nightbringers." Can you talk about the writing process for that record? Do you have a tried and true process that you repeat?
TS: Well, yes and no. There's definitely a tradition in what we do, you know. We've been writing a certain way for a long time, but we brought in a new guitarist in Brandon (Ellis) the lead player who wrote a ton of songs and had a ton of fucking awesome ideas. So, in that way it was very different. He really took control in the studio too in the way the mix came out and the way that the EQ for the guitars were dialed in. We just trusted him because he knew. It's really exciting to have somebody that is such a musician. Honestly dude, he's a godsend. Really.
SP: You guys share him with another band currently…
TS: Arsis. Yes. His tenure with them is pretty much up. They have a new guy named Taylor (Washington) that's insane too from Paladin, which is an incredible band that you should check if you're hearing what I'm saying. Anyway, so yeah the era of Brandon has been an era…so many dimensions. I mean, I'm really…looking back now we're about to wrap up this whole record finally. We kind of extended the touring process because we had so much success and it went a little bit longer. The new album will be coming out in early 2020 which is late for us. They're usually every odd year.
SP: One thing I've always appreciated about you is that you wear your love of the horror genre on your sleeve and dovetail that so well with metal music.
TS: Oh, for sure dude. For me, it was one led to the other. You know, every metal kid back in the day when he was little used to go into the horror section of the video store and look…and then he started going into the metal section of the record store because it had the same kind of artwork. That started my whole fascination with it. Throw in a little D&D (Dungeons & Dragons) and here I am. *laughs*
SP: Speaking of horror, is there anything you're watching now of you've seen recently that just blew you away?
TS: Um, I barely even see new movies. I'm kind of in my own world of metal and I just like what I like. I like 80's shit. I like nostalgia. I kind of live in the past and just put all the shit around me that sucks away, you know what I mean? But in terms of horror, something I've seen recently that I thought was… I thought Hereditary was incredible. That scared me and I don't get scared very much.  Like that's what I try to do with BDM is make people's skin crawl. Basically in the movie…the accident…that was only 20 minutes in, you know? The rest of the movie, and even the relations between the family, was so unsettling. It was terrible. It made you feel so bad. So anyway man, I stand corrected. There can be good new horror, man, and that's definitely it.
SP: So, you may not necessarily stay up on the latest movies, but I know one thing you do keep up on is new metal music. You're constantly getting sent CDs and giving your own reviews. How did that get started?
TS: Well, that's been kind of a bonus, you know for doing it. Well dude, they say it gets like 10,000 hits like every day.  Imagine you're in this little brutal death metal band, a genre where nobody gives any respect. Nobody puts it in the news. All these metal sites gloss over it. So, for 10,000 people to hear that, hopefully, and click that YouTube link. That gives me life, dude. That's the shit. That's what I'm talking about.
SP: That really says that your opinions matter to people. What do you think about that, that people give a shit what Trevor thinks about this album?
TS: It's flattering, dude. I'm flattered. The underground is my life and combing the underground is my life and staying up on it. So, I'm honored that people respect my opinion. I feel like I know what some sick shit is. Just saying, man. I feel like I find these crack slippers that nobody finds, but that's just me. I'm like neurotic for this shit.
SP: Great band name by the way – "Crack Slippers."
TS: Crack Slippers! Neurotic Crack Slippers! *laughs*
SP: Well, like you said, you know what some sick shit is because you've been around the scene for so long…
TS: Right, and just like for me, focusing on brutal death in particular…it's a young genre. I've seen it since day one, you know what I mean? Literally.
SP: There aren't a lot of bands in that genre that started when you guys did that are actually still out there operating at the level of TBDM.
TS: Right, right. Between the Buried and Me, but they've gone in their own way. A more accessible way and they're amazing. I commend them. They've done so great for themselves. But I hear what you're saying dude. A lot of our peers that I love so much…A Live Once Lost, and Red Chord, and bands that I feel like deserve to be right here with us – neck and neck, you know? But they just didn't, I don't know if it was right decisions or I don't know man. It's a dice roll, I guess. That's what it feels like.
SP: Well, here at Sonic Temple, you guys are definitely the heaviest of the bands playing the whole weekend. What's it like playing a festival like this that is primarily made up of mainstream rock radio bands?
TS: Fun! Yo, it's fun! It's fun being a sore thumb. Fuck yeah, it's awesome! Put on your sunglasses, act like a dickhead, play your songs, and scare some people. How does it get better than that? Dude, so many people were crowd surfing today I couldn't believe it.
SP: I noticed they were really responding to the new stuff. Those riffs are huge.
TS: Yeah, those are huge live songs and we've been thinking about that.
SP: That riff from "Nightbringers" in particular…
TS: Circus riff, baby. Evil circus! Yep. *laughs*
SP: *laughs* I think I'm always going to hear that as evil circus music from here on out. Is there any band here today that you want to see?
TS: Killswitch. Oh yeah. I mean, we've loved them since day one and they've had such a huge career. They're just bosses live and they lay down a clinic every time, so I'm going to take notes. Like I always do! *laughs*
SP: Oh, for sure. I feel bad for The Cult having to follow Killswitch. They're going to destroy that side stage and I'm sure that Adam (Dutkiewicz) is going to do something crazy.
TS: Oh yeah, of course. He's going to shoot string cheese out of his…urethra. *laughs*
SP: *laughs* Exactly. So, real quick, this new album of yours…I'm curious, is it pretty much done at this point?
TS: Well, I have a lot of work to do personally in my writing stuff, but the music is 99% banged out.
SP: Is it in the vein of Nightbringers?
TS: It is. I wanna say it's like taking that and just going further. It's Brandon reaching out to a new plateau and Brian (Eschbach) too. Brian's writing in particular is some of the most emotive and heartstring wrenching shit. I'm really excited man. It's going to be a very wild and various ride of an album and I know you guys will like it.
SP: How do you select artwork?
TS: It's always on me, man. That's one of my things. I love being the theme guy for the band that has to do with the lyrics, and the song names and the shirt artwork and the album artwork. Obviously, we have something very cool brewing for the new one but I can't tell you. But it's gonna be gnar gnar! *laughs*
SP: Something to look forward to! Trevor, thanks so much again for your time. Great chatting with you!
TS: Thanks so much, man. It was really fun.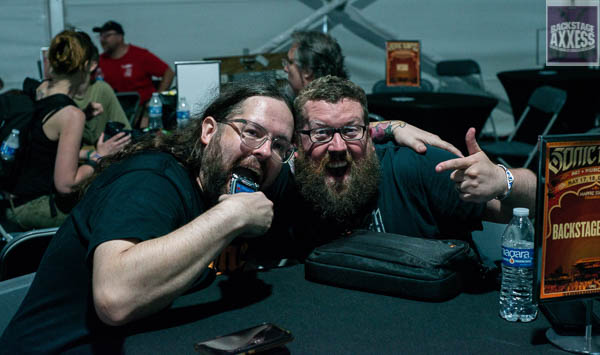 We would like to thank Nikki Law from Metal Blade Records for setting up the interview with Trevor. For more information on The Black Dahlia Murder, please go to: The Black Dahlia Murder.