Rock and Roll Hall of Famers The O'Jays rolled into Artpark with The Average White Band last Tuesday and it was a night full of funk, soul and rhythm and blues. The O'Jays have been together for over 60 years. Founding members Eddie Levert and Walter Williams were joined by Eric Grant to perform all of the O'Jays classic hits. This tour has them playing packed shows across the country. With a string of hits that dates back to the early 60s, the soulful R&B group has been a fan favorite with their rhythm and blues standards.
They opened a strong 25 song set with "Give the People What They Want" then slid into "Livin' for the Weekend" before slowing down with a mix of "Forever Mine" and "Darlin' Baby." It was looking like this show would change tempo at any moment. It proved to be true when hits from the Disco era started to appear like "I Got You" and "I Love Music" were played. Eddie took the lead to sing a trio of love songs that began with "Let Me Make Love to You" as the ladies in the crowd swooned and cried out " I love you Eddie!" He replied smartly "I love you too!"
The crowd was on their feet with the first notes of the #1 hit "Love Train" and they didn't sit down until Eddie changed up the tempo again. This time bringing a stool on stage and crooning a 9 song "message medley" that included "Message in the Music" "992 Arguments" and "Now That We Found Love."
The pace picked up again when "Backstabbers" got everyone dancing again right through the finale of "For the Love of Money." I must say  that The O'Jays had delivered.
Openers The Average White Band played a sharp 8 song set with some great hits of their own; "School Boy Crush" "Cut the Cake" and "Pick up the Pieces."
It was a glorious night if you were a R&B fan. One can only hope these groups continue to bring this kind of a show to the stage. Get out to see them for a great night of fun when they come close to you. You won't regret it!
Give The People What They Want
Livin' For The Weekend – Pts 1 & 2
Average White Band setlist: 
Work to Do (Isleys Brothers cover)
What's Your World (Leon Ware)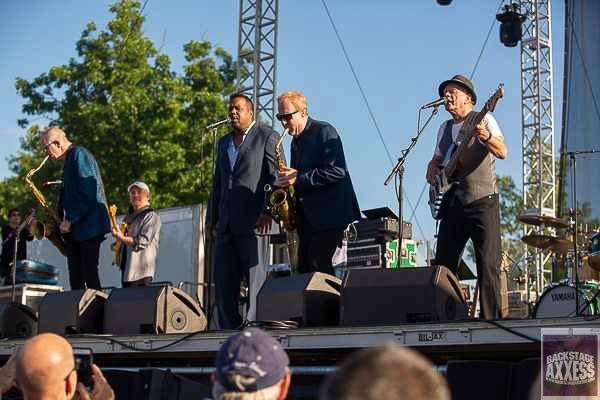 We would like to thank Dave Wedekindt and Maria Hays from Artpark for the credentials to review the show.