ShipRocked 2020:
Hellyeah, Maria Brink, Ra & Aeges
Added To Lineup For 11th Year Of
'The Ultimate Rock Music Cruise Vacation'
Also Featuring
Halestorm, Alter Bridge,
Asking Alexandria, Beartooth, Of Mice & Men & More
February 1- February 6, 2020
Departing New Orleans On Carnival Valor
With Stops In Key West & Cozumel
All-Star Lineup Revealed For
The Stowaways
Powered by ESP Guitars and Keep The Beat Alive
Festivities Kick Off January 31, 2020 With
'ShipRocked Pre-Party Gras Parade' In New Orleans' French Quarter
ShipRocked 2020 has added Hellyeah and Maria Brink (In This Moment) – in her first-ever solo piano lounge set — to the music lineup for the 11th year of the ultimate rock music cruise vacation. Ra – with their first performances in over 5 years – and Aeges also join the bill for ShipRocked 2020, which sets sail February 1-February 6, 2020 onboard Carnival Valor, departing from New Orleans, LA with stops in Key West, FL and Cozumel on Mexico's Yucatan Peninsula.
Hellyeah singer Chad Gray says, "We're looking forward to living that castaway life, performing up close and personal for our fans, and hanging out with good friends in a more relaxed vacation-like environment on ShipRocked's 11th voyage!"
"I am so excited to be doing ShipRocked this year," says Maria Brink. "And not only doing it again, but doing it by myself this year, I think, is going to bring something so unique and special, and a different side of me that no one has ever seen before. I can't wait to see everybody again and have everyone experience this with me. See you all there!"
"For myself and the band we are super excited not only to make our debut appearance on ShipRocked, but also to use it as our launch pad for the new record Intercorrupted for 2020," says Ra frontman Sahaj Ticotin. "It will be our first show in 5 years and we are looking forward to getting fired up again with all the other amazing bands!!"
The Stowaways–powered by ESP Guitars and Keep The Beat Alive–return for a fifth year as ShipRocked's own all-star band, with a revolving cast of special guests including: Aaron Spiers (RavenEye), Andy Vargas (Santana), Alessandro "AP" Paveri (Gemini Syndrome), Burton C. Bell (Fear Factory), Carly Smithson (We Are The Fallen), Chris Traynor (Bush), Chris Volz (Flaw), CJ Pierce & Jasen Moreno (Drowning Pool), Clint Lowery & Morgan Rose (Sevendust), Dameon & Gabe Aranda (Aranda), Geno Lenardo (formerly of Filter), Jasen Rauch (Breaking Benjamin), Jason Womack & Phil Buckman (Fuel), Jeff Fabb & John DeServio (Black Label Society), Joey Duenas (Unloco), John Tempesta (The Cult), J.R. Bareis (Love and Death), Leo Moracchioli, Lukas Rossi, Mark Vollelunga (Nothing More), Todd Morse (The Offspring touring member), Uliana Preotu (Cilver), Will Hunt (Evanescence) and more surprise guests.
Overall, ShipRocked features performances from over two dozen music artists, led by Halestorm and Alter Bridge. ShipRocked 2020 will also feature (in alphabetical order): Aeges, Asking Alexandria, Badflower, Beartooth, Black Stone Cherry, Maria Brink, Cane Hill, Dead Posey, Dead Sara, DED, Goodbye June, Hands Like Houses, Hellyeah, Hyro The Hero, Ice Nine Kills, Living Colour, Of Mice & Men, Ra, Royal Tusk, SHVPES, Vein and We Are Band Nerds, plus special appearances by The Stowaways all-star band, Clint Lowery, Chad Nicefield (DJ sets), Andy Wood, and more.
Check out a new ShipRocked video here: https://youtu.be/jfTeJJp5FBc
Before the party starts onboard the Carnival Valor, ShipRocked celebrates its Big Easy debut with the ShipRocked Pre-Party Gras Parade in the historic French Quarter on January 31. More details, including how guests can watch and even participate in the parade are forthcoming.
Staterooms for ShipRocked 2020 are sold out, but a wait list is available at www.ShipRocked.com.
Produced by ASK4 Entertainment, ShipRocked is a once-in-a-lifetime experience that provides guests with the opportunity to vacation with their favorite bands, meet new friends, and reunite with old ones year after year. In addition to unique performances and musical collaborations, ShipRocked onboard and beach activities include photo meet and greets with band members, artist hosted events and activities, crazy theme nights, after hours parties and more. Loudwire called ShipRocked "…a staple of the hard rock and metal event calendar [March 1, 2017]."
ShipRocked guests will enjoy luxury accommodations onboard the Carnival Valor throughout the vacation. Carnival Valor features multiple gourmet dining options, including Guy Fieri's Guy's Burger Joint, BlueIguana Cantina, Mongolian Wok, Ol' Fashioned BBQ, and more. With 22 bars and lounges, well appointed sleeper accommodations, a tranquil spa, casino, fitness center, mini-golf, wet and wild waterslide, and multiple pools and hot-tubs, guests will have a variety of options to choose from.
For more information on ShipRocked 2020, visit:
Website: www.ShipRocked.com
Facebook: www.facebook.com/GetShipRocked
Twitter: www.twitter.com/ShipRocked
Rock Hard. Vacation Harder.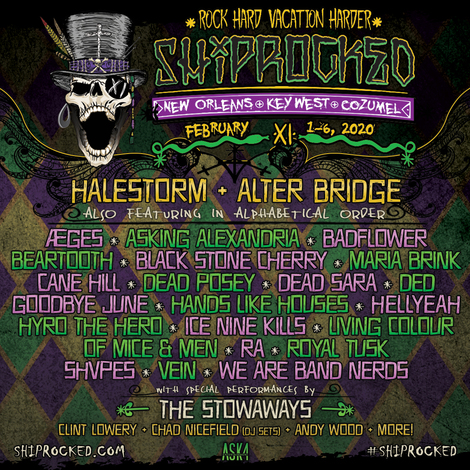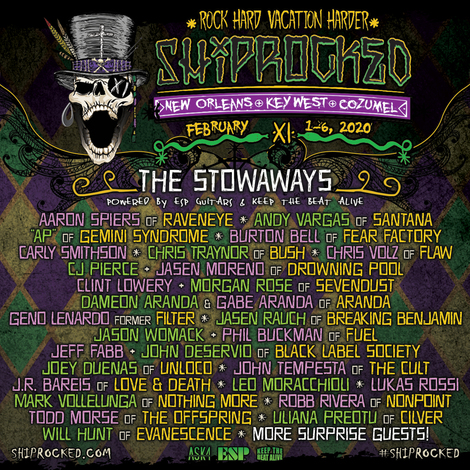 About ShipRocked:
Produced by ASK4 Entertainment—a premier rock music theme cruise and destination event producer—ShipRocked is the ultimate rock music cruise vacation with unique performances and musical collaborations, providing guests with the opportunity to vacation with their favorite bands, meet new friends, and reunite with old ones year after year. The full-ship charter provides a one-of-a-kind experience for guests to have the time of their lives with thousands of like-minded friends. ShipRocked activities include photo meet and greets with band members, poolside games, artist Q&A sessions, trivia challenges, game shows, parties, contests and more. The ShipRocked Cancer Sucks! onboard charity auction has raised over $500,000 to date for innovative medical research and finding a cure for cancer.
www.facebook.com/ASK4Entertainment
Rock Hard. Vacation Harder.