NAMM was busy for most of us but was extremely busy for Iron Maiden drummer Nicko McBrain. Nicko was all around NAMM as he was at various booths pressing the flesh and meeting his fans. The big news for Nicko for the 2020 NAMM show was his new drumkit on display at the British Drum Company booth. The set which is called "Icarus" (appropriately titled), will be the set that he will use outside of his Iron Maiden appearances. Made by British Drum Companies Keith Keough, the kit has very specific details that Nicko goes over during our interview.
In addition to the new kit we talk about what is on tap for Iron Maiden. When asked about new music, Nicko kept that close to the vest as he said if anything is announced it will be on the "spaces." Which means check out  the Iron Maiden website (see below). We talked about a few of the dates the band will be playing over the summer including a stop at the Download Festival. Of course, we talked about Rock and Roll Ribs (Nicko's restaurant in Coconut Creek, Florida) and the possibility of expanding that. Nicko wouldn't let us finish the interview without talking about  his metal Snare drum called the "Talisman." Its made out of British Steel.  Nicko will give you all the important specifications of this snare during our interview.
This is the 3rd time we have interviewed Nicko over the years and he still meets us with positivity and enthusiasm each and every time! We couldn't be happier to bring this interview to our readers at BackstageAxxess! Enjoy!!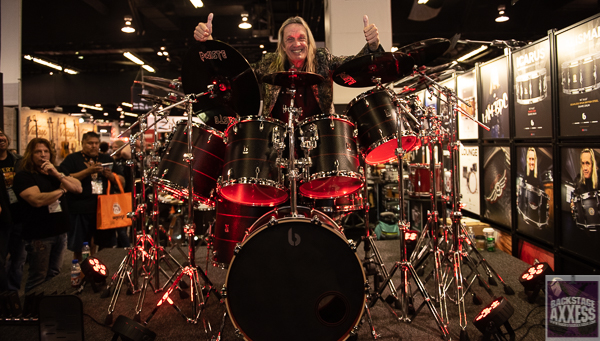 Photos by Diane Daybrow. Camera by Joe Carosi.  For more information on the drums that Nicko talked about including his kit "Icarus:" and his snare "talisman," please go to: British Drum Co.  For more information on Iron Maiden, visit this space at: Iron Maiden. If its Rock and Roll Ribs information you want, go no further and click here: Rock n Roll Ribs.