Even during the Covid-19 outbreak you can't keep David Ellefson down. The Megadeth bassist is partnering with the partnering with the Grammy Music Education Coalition to host "Oh Say Can You Stream fundraising event for the the David Ellefson Youth Music Foundation. This livestream online fundraiser, powered by CISCO WEBEX is to raise money for the "School's Out" initiative which provides online lessons, instruments and gear to kids and aspiring musicians during the current quarantine, and other COVID-19 relief charities. The event kicks off this Saturday (4.11) at 3 PM CT/4 ET can be streamed on GMEC's Twitch and Facebook, David Ellefson's Facebook and YouTube channels, and DEYMF's Facebook page. For the full lineup and details, please visit Ellefson Youth Music Foundation. The streaming links are provided below.
In addition to this very important fundraising event, we also talk about his other business ventures which include Ellefson Muisc Productions, Ellefson Coffee Company, his autobiographies and the relaunching of his old record label Combat Records. We also dive into the current state of Megadeth, including the upcoming record and tour with Lamb of God, Trivium and In Flames.  We also chart about his new song with his business partner Thom Hazaert.
Sit back and enjoy an Ellefson coffee as we talk all things Ellefson and Megadeth.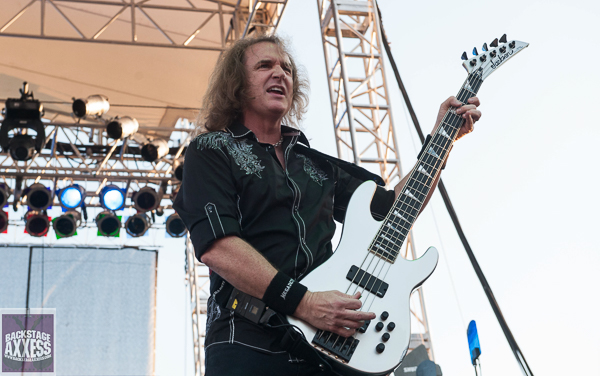 We would like to thank Jody Best of Best Bet Promotions for setting up the interview with David. For more information on all things David, please go to: David Ellefson. For your most up to date Megadeth info, please click here: Megadeth
FOR MORE "OH SEE CAN YOU STREAM" INFO, PLEASE LOOK BELOW: 
Streaming links for Oh See Can You Stream:
twitch.tv/grammymusiced
facebook.com/davidellefson
youtube.com/davidellefson
facebook.com/grammymusiced
facebook.com/thedeymf
The David Ellefson Youth Music Foundation has also set up a fundraiser in support of the SCHOOL'S OUT initiative. Donations can be made via FundRazr.
SPONSORS:
CISCO, GRAMMY MUSIC EDUCATION COALITION, SAMSON TECHNOLOGIES, HARTKE, JACKSON GUITARS, METAL DEVOPS
Hosts:
David Ellefson (Megadeth) + Thom Hazaert
Co-Hosts:
Don Jamieson, Jim Florentine, Craig Gass, Riki Rachtman
Performances + Appearances:
Bumblefoot Clint Lowery (Sevendust)*
Nita Strauss (Alice Cooper)
The Loyal Order*
Andre Comeau (The Real World NYC, Reigndance)*
Terry Ilous (XYZ, ex-Great White)
Mark Slaughter
Darryl "DMC" McDaniels (Run DMC)
Danny Cooksey (Terminator 2, Salute Your Shorts)
Jason McMaster (Dangerous Toys, Broken Teeth)
Dirk Verbeuren and Kiko Loureiro (Megadeth)
Mark "Weissguy" Weiss (Legendary Rock Photographer)
Daniel de los Reyes (Zac Brown Band)
John Driskell Hopkins (Zac Brown Band)
Elias Soriano (Nonpoint)
Alex Skolnick (Testament)
Rob Caggiano (Volbeat)
Greg Hetson (The Circle Jerks)
Jason Bieler (Saigon Kick)*
Whitfield Crane (Ugly Kid Joe)
Drake Bell*
Alice and Sheryl Cooper
Rich Ross (Freddy Jones Band)
Chris Poland (Ex-Megadeth)
Marc Rizzo (Soulfly/Cavalera Conspiracy)
Frank Hannon (Tesla)*
Dash Cooper (CO-OP)
Charlie Benante (Anthrax)
Carla Harvey (Butcher Babies)
Ari Lehman (Friday the 13th/First Jason)
Adam Green (Director – Hatchet, Horror Legend)
Chris Kael (Five Finger Death Punch)
Chip Z'Nuff (E'Nuff Z'Nuff)
PJ Farley (Trixter, RA)*
Drew Fortier (Dwellers – Ellefson Films)
Dson (Rapper)*
Scott Schiaffo (Clerks, Vulgar, Musician, Author)
Brian O'Halloran (Clerks, Clerks 2, Mallrats, Dogma, Jay and Silent Bob)
Marilyn Ghigliotti (Clerks)
Ernie O'Donnell (Clerks, Chasing Amy)
Larry Thomas (The Soup Nazi – Seinfeld, Austin Powers)
Lew Temple (The Walking Dead, The Devil's Rejects, 31) S
tephen Costantino (Gamorrean Guard – Return of the Jedi)
+ more TBA *denotes performances