One of the hottest new bands on the circuit right now is Stitched Up Heart. The band just released its sophomore effort titled "Darkness" on March 13th through Century Media Record. The album features the song "Lost" with Godsmack vocalist Sully Erna. The band has already had 3 top 30 mainstream rock hits and over 20 million worldwide streams. As you can see, there has been a lot of buzz  about the band. BackstageAxxess recently were able to chat with front woman Mixi Demner  about the new record. We also talked about the collaboration on the big rock song in "Lost" with Sully Erna. Due to Covid-19, we asked  Mixi how she has been spending her downtime. She and her band mates have a heart of gold as they been really involved in a local wildlife sanctuary called Animal Tracks Wildlife Sanctuary. She talked about her involvement in that and her love of being a foster to kittens who need to be bottle fed.
Enjoy this conversation with one of the fresh faces of rock in Mixi Demner of Stitched Up Heart!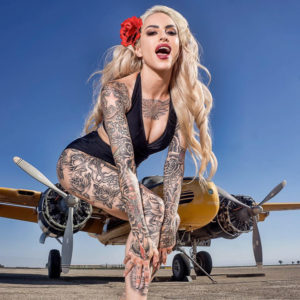 We would like to thank Claire Reynolds of The Orchard for setting up the interview with Mixi. For more information on the new record "Darkness," please click here:  Stitched Up Heart . If you would like to make a donation  to Animal Tracks Wildlife Sanctuary, please go here:  Animal Tracks Inc. .