RELEASES INTOXICATING NEW SINGLE "WHERE I'M GOING"
Alternative rock band Regence has released their brand-new single "Where I'm Going," the first under the Regence moniker. Inspired by the struggles of living in quarantine during a global pandemic, "Where I'm Going" was born from the frustrations that the band and indeed the entire world was experiencing. The crunchy guitars and dense layers of sound are hypnotic, inviting the listener in before the soaring melodies of the chorus.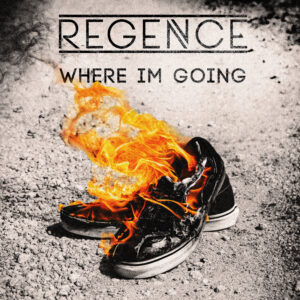 The mantra "you know where I'm going" is kind of a statement to say "I'm done living this way, I'm moving on to something better."…Eli Helms, bass
 The song is instantly relatable. Although it was inspired by heavy themes like loneliness and unease, there are also notes of hopefulness and positivity.  It is a reminder that no matter what you are going through there is always something better on the other side. 
"Where I'm Going" captures how it feels to be misunderstood and underestimated but to recognize one's own potential …Colin Moser, guitar 
"Where I'm Going" was recorded by Regence at Trey's home studio. The song was mixed by local legend and platinum mixing engineer Mark Williams whose credits include work with Kirk Franklin and was mastered by Dave Harris at Studio B. 
Regence will be following up "Where I'm Going" with several more single releases this summer, as well as a full-length album.
Photo Credit: Samantha Darwin
Single Art Work: Eli Helms
Stay connected with Regence online:
Web   Facebook  Instagram  Spotify  Twitter   YouTube
About Regence:
Regence is a four-piece alternative rock band based in Charlotte, North Carolina that delivers both power and passion with their songs and live performances. Nasty riffs and massive guitars combine with explosive vocals to create a colossal and all-encompassing sound. Accompanied by introspective lyrics and lush, harmonic landscapes,  Regence takes you on a sonic joyride with every twist and turn. Influenced by bands like the Foo Fighters and Royal Blood, Regence easily bridges the divide between the past and the future with a sound that is both timeless and classic yet innovative and inventive.  
The roots of Regence go all the way back to their high school years when bass guitarist Eli Helms and vocalist Trey Spears met in band class and formed a group known as The Walbournes with drummer Nick Papazekos. A few years later, D.J. joined as their new drummer and they began recording music and playing local shows. The band went on to become a four-piece with the addition of Colin Moser on guitar who they met through mutual friends in the Charlotte music scene. Under The Walbournes moniker, the band has played two sold-out shows at the iconic Charlotte club The Evening Muse and has established themselves as a force to be reckoned with in the Carolinas music scene.  
 After spending the better half of two years writing music and developing their craft during the pandemic, the band recently changed their name to Regence in order to better reflect their new music and the direction of the band. 
Regence is:
Trey Spears-  Vocals/Guitar
Eli Helms- Bass
D.J. Buchanan- Drums
Colin Moser- Guitar