DEATH CAB FOR CUTIE ADDS EARLY-2023 US RUN TO ASPHALT MEADOWS HEADLINE TOUR
NEW DATES KICK OFF JANUARY 27 AND CULMINATE AT THE RYMAN AUDITORIUM IN NASHVILLE, TN ON FEBRUARY 14
PRESALES BEGIN WEDNESDAY, SEPTEMBER 28 @ 10 AM LOCAL TIME
GENERAL ON-SALE BEGINS FRIDAY, SEPTEMBER 30 @ 10 AM LOCAL TIME
CRITICALLY ACCLAIMED TENTH STUDIO ALBUM ASPHALT MEADOWS OUT NOW
BUY/STREAM HERE
INDIE ROCK VETERANS' CURRENT SINGLE "HERE TO FOREVER" IS #3 AND RISING AT ALTERNATIVE RADIO & #1 AT AAA FOR SEVENTH STRAIGHT WEEK
FALL 2022 HEADLINE TOUR KICKED OFF LAST WEEK – FEATURING SUPPORT FROM REAL ESTATE, THAO, CHONG THE NOMAD + YO LA TENGO ON SELECT DATES
TICKETS ON SALE HERE
"Twenty-five years into its career, the band brings its incisive, anguished writing to a particularly 2022 brand of existential angst on its 10th album, 'Asphalt Meadows'… an expansive album…" – THE NEW YORK TIMES
"If you haven't heard yet, Death Cab for Cutie is back back… [their] best album in over a decade…" – VULTURE
"…a late-career masterwork… Death Cab have made plenty of great songs in the past decade, but 'Foxglove Through The Clearcut' stands alone as proof of what Gibbard has worked so long to accomplish: The scope of Death Cab is so much bigger than anyone, including himself, could imagine." – PITCHFORK
"[Gibbard]'s openness to possibility is on full display throughout Asphalt Meadows, the surprising new album from his band Death Cab for Cutie (and their tenth since 1998) that finds the indie mainstays navigating a terrain of exciting new sounds." – STEREOGUM
Today, 8x GRAMMY® Award-nominated rock band Death Cab for Cutie has announced additional US dates for their headline Asphalt Meadows tour. Set for January/February 2023, the new dates kick off January 27 in Louisville, KY, include stops in New Orleans, Austin, and Dallas, and culminate at Nashville's famed Ryman Auditorium on February 14.
Presales for these dates will begin tomorrow, Wednesday, September 28 at 10am local time and continue through Thursday, September 29 at 10pm local time. General on-sale begins Friday, September 30 at 10am local time. A portion of proceeds from artist presale tickets sold via the band's website will be donated to Seattle-based nonprofit Aurora Commons. Early access to the artist presale and complete ticketing details can also be found at www.deathcabforcutie.com.
Death Cab for Cutie's highly-anticipated tenth studio album Asphalt Meadows – out now on Atlantic Records – was released to widespread critical acclaim on September 16. Produced by GRAMMY® Award-winner John Congleton (St. Vincent, Sharon Van Etten, Wallows), the LP has earned tremendous praise from outlets including The New York Times, Los Angeles Times, Vulture, SPIN, Stereogum, international publications like the UK's NME, and Pitchfork, who in their album review lauded Asphalt Meadows as "...a restoration of their creative momentum when a mere 'return to form' would have sufficed."
"…their best album in years… In Asphalt Meadows, there are elements of the band's early work… while also feeling fresh — thrashier and livelier than ever before — with some of Gibbard's sturdiest songwriting…" – SPIN
"10 albums and 25 years into their career, the Washington indie veterans come back mature and assured but loaded with that early melodic magic." – NME
"…Asphalt Meadows, an album that feels exactly like what Death Cab should ideally sound like 25 years since their formation: At once familiar and like nothing they've done before… some of Gibbard's most introspective lyrics in years." – CONSEQUENCE OF SOUND
"…some of the most compelling work of the band's career… one that succeeds in highlighting the best Death Cab components and stretching them farther than ever before…" – FLOOD
"For 10 band albums now, plus solo sets and efforts with The Postal Service, the sonic muralist [Gibbard] has sketched gorgeous pneumatic panoramas that contain more truth in their tiny brushstroke details than is initially apparent on first inspection. Which easily accounts for the band's repeated Grammy nominations over the years, eight in all. Gibbard's quirky indie-rock songs are the best kind… growers that reveal the depths of their brilliance after consecutive listens. The idyllic new Asphalt Meadows – which sets up a paradoxical conundrum in its title alone – follows intellectual, multi-layered suit." – PASTE
Lead single "Here to Forever" is currently #3 at Alternative radio (and rising), while maintaining a seventh straight week at #1 at AAA (the track was the most-added song at AAA and Alternative upon its mid-July release).
Death Cab for Cutie is currently celebrating their 10th studio album on the fall 2022 US leg of their Asphalt Meadows headline tour, featuring support from Real Estate, Thao, Chong the Nomad, and Yo La Tengo on select dates. This Friday, September 30, the band will make their much-anticipated return to New York's Forest Hills Stadium. The tour includes stops in Los Angeles, Oakland, Chicago, and Boston, and culminates with a sold-out, two-night hometown finale at Seattle, WA's Paramount Theatre on October 26 and 27.
The full routing of all upcoming tour dates is listed below.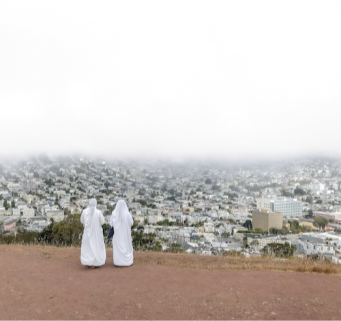 ###
ASPHALT MEADOWS:
I Don't Know How I Survive
Roman Candles
Asphalt Meadows
Rand McNally
Here to Forever
Foxglove Through The Clearcut
Pepper
I Miss Strangers
Wheat Like Waves
Fragments From The Decade
I'll Never Give Up On You
###
ABOUT DEATH CAB FOR CUTIE:
Formed in Bellingham, WA in 1997, Death Cab for Cutie almost immediately entered the ranks of the era's definitive bands, fueled in large part by the remarkable power of co-founder, vocalist, guitarist, and lead songwriter Benjamin Gibbard's complex, often bittersweet songcraft. The band made their worldwide popular breakthrough with 2003's RIAA gold certified Transatlanticism, later named by NPR as one of "The Decade's 50 Most Important Recordings." Plans, their 2005 Atlantic Records debut release, saw Death Cab for Cutie ascending to even greater heights, earning RIAA platinum certification and a GRAMMY® Award nomination for "Best Alternative Album" while spawning the chart-topping singles, "Soul Meets Body" and "I Will Follow You into the Dark," the latter of which was honored with a GRAMMY® nod for "Best Pop Performance By Duo Or Group With Vocals." Their following albums – including Narrow Stairs (2008), The Open Door (2009), Codes and Keys (2011), and Kintsugi (2015) – all received various GRAMMY® Award nominations, bringing their total career nominations to eight overall.
Death Cab for Cutie's ninth studio album Thank You for Today was released in 2018. That album saw the band entering its second decade by both expanding and refining its signature sound, with highlights including lead single, "Gold Rush," which reached #1 on Billboard's "Adult Alternative Songs" chart.
The band continued to affirm their lasting artistic legacy with a wide range of creative activity in the years that followed, including diverse collaborations such as Chance the Rapper's 2019 album track, "Do You Remember (ft. Death Cab for Cutie)," and Tycho & Gibbard's acclaimed 2021 single, "Only Love."
December 2020 saw Death Cab for Cutie release The Georgia EP, initially offered as a 24-hour Bandcamp exclusive in advance of the crucial Georgia runoff elections that ultimately turned the state blue and secured Democratic control of the US Senate. The five-song project – which features covers of iconic artists from the great state of Georgia – raised over $100K for Fair Fight Action, the national voting rights organization founded by Stacy Abrams.
In February of this year, Gibbard conceived, curated, and executive produced Ocean Child: Songs of Yoko Ono, an acclaimed tribute to the groundbreaking singer, songwriter, multimedia artist, and activist released in celebration of her 89th birthday. The collection – which included Death Cab for Cutie's own cover of "Waiting For The Sunrise" – also featured contributions from a stunning range of diverse artists, including David Byrne, Japanese Breakfast, The Flaming Lips, and Sharon Van Etten. Ocean Child earned worldwide critical acclaim spanning The New York Times, Rolling Stone, NPR, The Guardian and more.
Death Cab for Cutie's 10th studio album Asphalt Meadows is out now via Atlantic Records.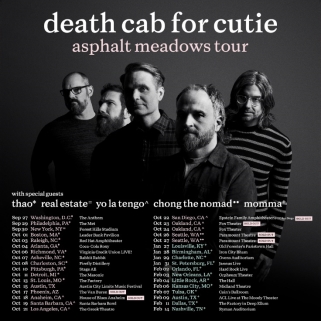 ###
DEATH CAB FOR CUTIE | ASPHALT MEADOWS TOUR
SEPTEMBER
27 – Washington, DC – The Anthem ^
29 – Philadelphia, PA – The Met ^ – LOW TICKETS
30 – New York, NY – Forest Hills Stadium =
OCTOBER
1 – Boston, MA – Leader Bank Pavilion ^ – LOW TICKETS
3 – Raleigh, NC – Red Hat Amphitheater ^
4 – Atlanta, GA – Coca-Cola Roxy ^
6 – Richmond, VA – Virginia Credit Union LIVE! ^
7 – Asheville, NC – Rabbit Rabbit ^
8 – Charleston, SC – Firefly Distillery ^
10 – Pittsburgh, PA – Stage AE ^
11 – Detroit, MI – The Masonic ^
13 – St. Louis, MO – The Factory ^
15 – Austin, TX – Austin City Limits Music Festival †
17 – Phoenix, AZ – The Van Buren – SOLD OUT
18 – Anaheim, CA – House of Blues Anaheim # – SOLD OUT
19 – Santa Barbara, CA – Santa Barbara Bowl #
21 – Los Angeles, CA – The Greek Theatre # – LOW TICKETS
22 – San Diego, CA – Epstein Family Amphitheater @ UC San Diego # – SOLD OUT
23 – Oakland, CA – Fox Theater # – SOLD OUT
24 – Oakland, CA – Fox Theater #
26 – Seattle, WA – Paramount Theatre % – SOLD OUT
27 – Seattle, WA – Paramount Theatre % – SOLD OUT
JANUARY 2023
27 – Louisville, KY – Old Forester's Paristown Hall &
28 – Birmingham, AL – Iron City Bham &
29 – Charlotte, NC – Ovens Auditorium &
31 – St. Petersburg, FL – Jannus Live &
FEBRUARY 2023
2 – Orlando, FL – Hard Rock Live &
3 – New Orleans, LA – Orpheum Theater &
4 – Little Rock, AR – The Hall &
6 – Kansas City, MO – Midland Theatre &
7 – Tulsa, OK – Cain's Ballroom &
9 – Austin, TX – ACL Live at The Moody Theater &
11 – Dallas, TX – The Factory in Deep Ellum &
14 – Nashville, TN – Ryman Auditorium &
MARCH 2023
1 – Milan, Italy – Fabrique *
2 – Zurich, Switzerland – X-Tra *
5 – Copenhagen, Denmark – Den Grå Hal *
6 – Stockholm, Sweden – Filadelfia *
7 – Oslo, Norway – Sentrum Scene *
9 – Berlin, Germany – Columbiahalle *
10 – Tilburg, Netherlands – 013 *
11 – Amsterdam, Netherlands – Paradiso *
12 – Cologne, Germany – E-Werk *
14 – Antwerp, Belgium – De Roma *
15 – Luxembourg, Luxembourg – Atelier *
16 – Paris, France – Salle Pleyel *
18 – Nottingham, United Kingdom – Rock City *
19 – Dublin, Ireland – Bord Gais Energy Theatre *
21 – Birmingham, United Kingdom – 02 Institute *
22 – Edinburgh, United Kingdom – Usher Hall *
23 – Glasgow, United Kingdom – Barrowland *
25 – Manchester, United Kingdom – O2 Apollo *
27 – Brighton, United Kingdom – Dome *
29 – London, United Kingdom – Royal Albert Hall *
† Festival Performance
^ w/ Special Guest Thao
= w/ Special Guest Real Estate
# w/ Special Guest Yo La Tengo
% w/ Special Guest Chong the Nomad
& w/ Special Guest Momma
* w/ Special Guest Slow Pulp