When thinking about Dee Snider, long time frontman from the band Twisted Sister, the first things that come to mind are probably not business mogul, brand, and family man. Dee is not only these things, he is also an outspoken, loud, and audacious singer that his fans have come to know all through the years. In an in depth conversation with Dee, we not only touched upon the aforementioned, we also discussed the current state of Twisted Sister, his participation in the Las Vegas show Monster Circus, and his status as one of the fighters against censorship almost 25 years ago. Dee also lets the cat out of the bag on a few other projects too. Lets see Dee let it rip.
Gus: How was your experience working with the Monster Circus and can we
expect to see you for any future shows with them?
Dee: It was a surprise to me, I really didn't know what I was getting
involved in and what it would evolve into. When I got the call to come out and
sing, I thought I was coming out to a "Camp Freddy" esque type of
event. It wound up being a much more involved show. From my first appearances
there, they increased my presence in the next month. The show is now dark, but
it's completely being restructured and being rebuilt around me. I'm
coming back, but now as the focus of the show. It's going to be the "All
Star" band and same type of players but with an actual frontman present
from beginning to end. The mutual feeling is that, that is what the show needs, a

frontman. That's why frontmen are frontmen, because we are
entertainers. It needs that force presence throughout the show and they asked me to be that force. I love working with the guys and love the experience. It was a surprise to me to find a home in Las Vegas and a welcoming audience. But if
it's going to be a Dee Snider show, I have to feel comfortable with what's going on around me on stage. The basic concept remains the same, but we are restructuring the whole thing.
Gus: So this will be your show and there will be no guest front man?
Dee: The idea of having guests from time to time is still there. Except now there will be a star, and a focus in the show and a consistent driver. The original concept of bringing in someone like myself, out for three or four songs each month, came to the realization that the talent pool is limited. Plus the reality of fitting in two weeks time of learning a number of songs (as everyone has things they are doing) and not everybody lives next to each other. So there was a problem of learning new music, a problem of finding people to come out, and some of the fits were awkward. John Waite was talked about as a potential for following me. You're going to bring John Waite out when you had Dee out the month before?? It was one of those ideas on paper led really well but execution wasn't as do-able. My position was to have it be less about the special guest and have a look who's here tonight. Kind of what Steel Panther does with their show. Last month, we had Evan Seinfeld come down one night and he came up and did "You Really Got Me." Then another night, Jeff Pilson came out from the crowd and took the bass to play "Highway to Hell." We are aiming for more something like that, where people from in the house get up and play. Maybe not their own song, but on a song they always wanted to do.
Gus: Can you tell us about the re-release of Twisted Sister's "Stay Hungry" CD?
Dee: That's funny because I just got off a call with someone from Uruguay and I was finally able to verbalize it correctly. Wait, are you talking about "Still Hungry" or "Stay Hungry?"
Gus: Actually I was going to ask if you re-recorded "Stay Hungry" because you weren't satisfied with "Still Hungry?"
Dee: "Still Hungry" was like to us what "Some Kind of Monster" was to Metallica. Realization was that things started to unravel during the recording of "Stay Hungry" and things continued to unravel until we broke up a few years later. If you follow the path, where did the problems of the band start? It was a disagreement during the recording of "Stay Hungry." I said, "We should go back to the studio and re-record it to the way we envisioned it." The way Metallica went to therapists to solve their problems. Metallica wound up getting it filmed and releasing it on DVD. Our record company said, "If you are going to do that, we will pay for it and release it!" Basically, "Still Hungry" was our therapy. The observation of it, when all is said and done, the differences are so slight that the differences are what we wanted in the recording process and the arrangements would have changed the fate of the album. We then would have been a much happier band and have a longer life. Instead, the record company and record producers squashed more metallic elements of the band, but the difference is really not that much. So now to the 25th anniversary of "Stay Hungry," there are so many things other bands have done to commemorate things. This is a 25th anniversary, it's a significant milestone, our biggest selling record (5 million international) and the record company wanted to do a special release package. It's like we're not re-inventing the wheel here, so they were like what do you have? Well, interestingly, when I wrote songs for albums I always overwrote. In this case, we went in and demoed almost 25 songs. Then the band will sit and pick the best 10. So when we were going over the tapes we had, I started calling J.J. and it was like "holy shit, man" there was some great shit we didn't put on that album. We could have done a follow up with Stay Hungry II, or a double album, or something like that. This makes it a find for the listener or true fan. So we put all of those oddities and extra tracks and all that stuff (what people do) on there. Then the song I wrote when I was on Gone Country on CMT was a song called "Thirty" as my country song. Two notations, one; I really write good country (laughs) and two; country music and rock and roll have a lineage. Rock and Roll is descendant of early country and blues. So basically, it's a Rock and Roll song and when the band heard it (the song was about me and Twisted sister lyrically), they were like 'fuck man, let's rock this out! It's pretty much "Rock and Roll" by Led Zeppelin. So we recorded it for this record.
Gus: When can we expect a release of this record?
Dee: I should know this off the top if my head but I believe it's in June.
Gus: Will there be a full tour in support of this, or sporadic shows here and there -pretty much what you have been doing the last couple of years?

Dee: It will be sporadic shows. People have been talking about a full Twisted tour, including members of the band, but I'm just doing too much stuff. To me, as much as I love my past and I'm proud of it and enjoy the shows with the guys, it's back to the future. I don't want to go back to the future. I'm
working hard to create radio and movie opportunities, television and other vehicles. Going back 25 years and going back and playing the old stuff as a full time gig, it basically just kills any future work thing you have going on. Again, love it, proud of it, and have fun doing it and shit… Monster Circus thrives on it. But, at the same time, I have to do things that are forward moving in some fashion. Even if it's doing an 80's revival in Vegas, it still has a future to it, in a sense that it's a newer element thing and forward looking and hopefully will establish itself as a permanent resident at the Las Vegas Hilton.
Gus: Anyone who has seen a Twisted Sister show in the last couple of years has seen you in the "Stay Hungry" regalia. I heard in another interview that the "Stay Hungry" regalia will be retired following the anniversary tour or sporadic shows. Is this still the case?
Dee: I hope so! I Don't misinterpret on what I say, but I love putting it on. I read this in Metal Edge magazine where they ask all of these rock stars a question and they would give an answer and give a poll. The question was this: "When you see old pics of yourself, what do you think?" I'm reading it and everybody is either apologizing, throwing somebody under the bus for it, saying it wasn't my idea, the manager made me do it, everybody was doing it, and then you have Dee Snider: ' I think I look cool!'
Gus: (Laughs)
Dee: We were doing it in the early 70's when nobody was doing it. I joined Twisted in 1976 and that shit was dead as it can be, but yet we said fuck that man, we like doing this shit! So when I say I hope it ends, everything needs to have a logical end. I'm in my 50's, and I'm in good shape wearing these skin tight, skimpy outfits and I'm pulling it off! At some point something has to give (laughs)!
Gus: You obviously still fit into the costume, so what kind of workout regimen do you do?
Dee: It's not what you do, it's how consistently you do it! I have been training consistently for decades. You don't have to do a lot, you just have to commit to it and that goes with eating wise too. I'm not like "I don't eat anything" kind of guy, you just stay away from the fried foods or the cheesy things or fettuccine Alfredo stuff. It's the cumulative effect over the years. So if your looking for the miracle of being fit in their 50's it's not going to the gym 4 hours a day, 5 days a week. It's putting that 30 minutes to 45 minutes a day, 4 days a week…. ALWAYS! You've seen me perform and…I rock! (Gus and Dee laugh) I can't believe it myself! When it comes down to it, I always adhered to a certain lifestyle and certain fitness regimen. Again, nothing fanatical, just always consistent!
Gus: There are only a handful of guys who still look great and I can throw you into this mix, but Paul Rogers and Roger Daltry still not only put on a good show but look great as well!
Dee: I put on that Paul Rogers DVD "Live in Glasgow" I was like "yeah!' I mean he looked good and allowed himself to be a little more mature as he cut his hair and grew a goatee a little, but the attitude still exists! So when your saying "Will it be the end of the costume, I'm saying I hope so, not that I plan on letting myself go, but at some point you want to, I don't know..grow old somewhat gracefully? Do it as long as you can but you don't want to put on a show where you embarrass yourself and let the audience feel bad about themselves. Let me clarify that. I was reading a review in Metal Edge from the guy from the Murderdolls Wednesday 13 and he reviewed a Twisted Sister show. He started off by saying "When a reunion show is bad, it makes you feel old. When it's good, it makes you feel young!" That observation was so true. when people go see their heroes and they look in great shape, it invigorates you, the viewer. When you see them looking old and fat and tired, it kind of reminds you that wow, the years have past you know? I want to be that guy that people see and get fired up! One of the things that people connected to me in Vegas was smiling and them saying, "fuck yeah! This is what we loved about this shit!" Not seeing a guy who is a shadow of his former self, phoning it in while on the stage.
Gus: Were you surprised by the huge success of your Christmas CD "A Twisted Christmas?"
Dee: Yes and No. Well, Twisted keeps trying to get me to do a new record.
Gus: That was my next question. So you can tie that in with this question.
Dee: Yeah, I tend to do that (laughs). The guys are like, what do you think about doing a new album? I'm like, guys..why? You do a new album like Kiss' Psycho Circus and none of this shit sells. People don't want to hear the new stuff. Radio won't play it, MTV won't play it, and VH1 won't play it. Your doing it for your own head. Quite honestly, after having multi-selling records, I'm spoiled. I want to hear it on the radio and want to turn on the fucking TV and see it and get that reaction when you go into the song. The crowd smiles at the speed of sound and the crowd goes "yeah!" I'm not into writing stuff because I'm a musician now or I have something to say. If I have something to say, I'll say it onstage. I don't need to say it in a song anymore. I actually gave them my notice a couple of years ago, no problem. there is no reunion. Kiss doesn't know what the definition of what reunion means. Dee, it clearly means you get together and you never leave and slowly replace the band with other people (laughs)! So if it's a reunion, you comeback for a couple of years, then you say goodbye! So I gave them my notice. J.J. says: "What do you think about doing a Christmas album?" I turned to him and said, "yes!" I remember this clearly. I pointed to him and said "yes!" He said "yes?" He was stunned because I'm always saying no. I said that can fucking work! That's a novelty that can work. Your not playing original music and your actually playing hits. Your doing covers essentially. On top of everything else, back in 1984 or 1985, I remember wanting to do a Christmas album. There was one Christmas when I was home and at somebody's house and they were playing some Euro disco Christmas record. I said, "What the fuck?" Where is the metal Christmas record? They have every kind of Christmas record out there and no metal. I started thinking it through and saying, I can do "White Christmas," and started thinking about all the bands I was going to contact. AC/DC will do this one, Judas Priest will do this one, so when I get back I will reach out to them and put together a record of everyone doing Christmas songs. Just like the hole in the roof when it starts raining, and then it clears up and then your going to fix it, and then your too busy. So anyway, I forgot. Everybody thought you were out of your fucking mind. That is going to be the last nail in the coffin in your career. It's going to kill your career. I look up at them and say, "What fucking career?" (laughs) We're a band from the 80's, we haven't put out new product in forever, your more likely to hear our music on a commercial than on the radio, we don't tour, and I'm like, what have we got to lose? There is nothing more dangerous than someone who has nothing to lose. So we went ahead and recorded the album and would you have fucking known it… it was our biggest selling record since the 80's. Now inspired by the success, I have written a full blown musical based on the Christmas album. Effect 1, the band stayed together. so instead of exchanging miseries, JJ is like "The album is a hit what are you gonna do?" I'm like, well, I can't leave now! So I stayed. Effect 2, I wrote this musical based on it. Effect 3, we are working on new Twisted Sister original music for the first time in like 20 years. For the most part, the musical requires additional songs. It's actually a fictional story and the music of the show is the old Twisted stuff, the Twisted Christmas stuff, and the additional music that is about 8-10 songs specifically. We are in the process of writing for the first time in forever. So you may hear new Twisted Sister music by 2010.
Gus: When can we expect this musical to take flight?
Dee: Well, it's a huge undertaking. The vision is like… I can't tell you, but when you hear it, you will say "Holy fuck, this is so on the mark. So right there!" Oddly, the music that is needed is the counterbalance to the Christmas songs. Songs like "Another Christmas in Hell," Death May be your Santa Claus," and stuff like that. Very dark and heavy songs because this fictitious band ( I can't get tell you the whole story) but they start it with the best intentions of playing these metal songs and wind up playing these Christmas songs. So this batch of music is going to be very heavy and dark Twisted Sister music to go along with the musical. The plan for it is 2010.
Gus: Let's get into Dee snider a little, but you have so many projects going on… but one I wanted to talk about is your radio show called the House of Hair. The show is nationally syndicated and you have been doing this for over 10 years now correct?
Dee: We are in our 12th year and just this week finished our 605th weekly show.
Gus: How many markets are you in?
Dee: 220 in North and Central America now. We just expanded to 3 hours. You take that with the budding success of the Monster Circus in Vegas, certainly we haven't crossed over to that point yet, but there is real good signs of life there. You also have Rock of Ages on Broadway. Have you heard of that show?
Gus: No
Dee: Rock of Ages is for the 80's is what Grease was for the 50's. Instead of using an original soundtrack, they use all songs from the 80's. Twisted Sister has 2 in there and Quiet Riot is in there and Night Ranger. The list is endless. It started as a little club show and went off Broadway this year. Just in April opened on Broadway and was nominated for 5 Tonies. They just signed a 90 million dollar movie deal. Point being, 220 markets expanding to 3 hours literally in April. April, the opening of Rock of Ages to rave reviews on Broadway. Monster Circus starting to take route in Vegas. I don't think there is an 80's revival, but it's an acknowledgment. For me it's more of an acknowledgment that the 80's were real, it wasn't a figment of our imagination, it's not going to go away, it's a music of a generation, and it has appeal to new generations. It's really just reaching the masses.
Gus: Touching on what you said earlier that bands like Steel Panther, who has an 80's show and brings up newer musicians and sings older songs. This helps keep the 80's music fresh in everybody's mind.
Dee: Well, before Steel Panther reached the mainstream, it really starts in the alleyways and down on the street you know? Steel Panther formally know as…
Gus: Metal Skool
Dee: That thing was building with signs that there was something going on. Even the Sin City Sinners there's a sign and even go to Camp Freddy that there is a love and a affection for that era. It also reflects on an era like the 50's, 60's, 70's, and now 80's. They're something that is lost from an era that we don't have today. It was that middle finger, that attitude. In the new show (editors note: referring to Monster Circus here) there will be more of an 80's experience than a circus. The decade of decadence was a reaction to an ultra conservative government; the Reagan years. Not just the Reagan years but the economics. It was a very vibrant economic time. So you had conservatism and you had money. The young people were going like "fuck you" and partying. It's definitely a reaction. People look back on the 80's and say; "Man, that was fucking fun! That was some fun shit!' Now it's missing and your not finding that element in today's music. Don't get me wrong, I love today's music. I'm a big fan of lot of younger bands. My daughter is great because she is pumping me with new shit. I like the heavy shit. She's like, check this out and I'm like "Escape the Fate" and I'm like "Yeah!" Put that in my IPOD and we are going to see them! Still at the same time, there is something missing not just for the old listeners, but the younger kids too and they are finding it in the 80's rock.
Gus: I don't know if you been asked this in a while, but wanted to bring this up. Many kids may not know this, but you were the front runner to oppose warning labels on records before the Senate back in 1985 with Frank Zappa and John Denver. Looking back on it now, what are your thoughts on what took place almost 25 years ago?
Dee: First of all, it's amazing the legendary stature of that appearance has taken. There probably isn't a day that goes by that somebody
doesn't thank me or acknowledge me for being there and fighting. It's taught in schools. It's taught in colleges. It's part of censorship and
it's a part of history. That's pretty bizarre too. I did a docudrama for VH1 a couple of years ago and I was in it. It was very surreal as I was the only person who was there who was actually in it. It was this whole fictitious movie that someone had written that they thought what must have gone on during those Senate hearings. The only thing they actually had to go on was the hearings. Everything else they put together. I was reading the script and it was about Dee Snider doing this and see Snider doing that. I was like, "Shit, that's me! I'm on a written page here!" It didn't happen that way but it was just bizarre. Pleasantly, there are plenty of enough people who do know and are aware and are incredibly respectful. I use the word legendary for me 'loosely.' Believe me, I don't take myself that seriously. It's that kind of thing that has led to people to perceive me as more of an iconic figure. It's not just about the music now, there were other things that were 'bold' and people remember. We're actually talking about a Snider family reality show that is being pitched right now that is in development and we are going to networks with it next week. The 25th anniversary of the Senate hearings is next year, September 19, 2010. Somebody said that they wanted to examine 25 years later, Dee Snider's life "the scourge of music, the poster child that is everything wrong in Rock and Roll." Then take the senators lives and parallel them and lets see who has been with their wife for 33 years now. Lets see who has 4 straight edge kids who are going to college, who are in business, who are clean and sober, bright, focused and intelligent kids. Let's compare Dee's life with there's. I lived every word I said in those Senate hearings. I believe it was Al Gore's son who was busted a couple of years ago?? Didn't he get arrested?? Hey Al, what happened? I guess he was too busy at the Senate hearings I guess. 25 years later, I can say I'm proud of it, and glad that people recognize it as a significant battle waged by me, John (Denver) and Frank (Zappa). Sadly, they are no longer here. I win by surviving (laughs).
Gus: You win by default.
Dee: Yeah, that's it (laughs). I'm here still.
Gus: You're the national Spokesman for the Bikers for Babies . Can you tell us a little about that?
Dee: March of Dimes mission is helping prematurely born babies and babies with defects. Their research has done some incredible things over the years. Babies who weigh less than a pound go on to survive and thrive thanks to the March of Dimes. I've had two of my kids born prematurely. Fortunately, they were completely healthy and they had no ongoing health issues. As a person who has any feeling for others (I try to have feelings for others), you have to realize because you were lucky doesn't mean everybody was lucky. There are others who have health issues with their kids and ongoing medical bills. March of Dimes heard that I rode. A local Connecticut chapter asked me to be their Grand Marshall for the March of Dimes about 9 years ago. Slowly I started with my own ride on Long Island, continuing with the Connecticut ride and started to do other rides regionally in the Northeast, raising a lot of money and a lot of awareness. Last year, the National March of Dimes asked me to be the National Spokesperson. So now my personal mission is to not only raise awareness and get the message out there and try to get more people involved in a great cause! It's a great way to do something charitable and have a great day out with fellow bikers as well!
Gus: What else can we expect from Dee in 2009?
Dee: The 25th Anniversary of Twisted Sister's "Stay Hungry" and promoting that. Later in the year, look for a Twisted Christmas and hoping to
bring that out to Vegas. Not our musical but our Christmas show. It has really evolved into a huge stage set. It's a really exciting and fun holiday show. People have been talking to us (the Snider family) about doing something for years now. The right situation has not come up as we are not a car crash family. My producer says we are the new Huxtable family. We may end up writing books about parenting. We're more like the Munster's. They looked weird, but they were a normal loving family. How everybody perceived them, like when everyone was freaked out the way they looked. The way they acted was a little bizarre too, but as a core, they were a really cool family and that's what the Snider's are. We are expecting to start shooting that in the summer. So hoping for a fall release on that. Fangoria radio continues on. House of Hair is up to 3 hour a week now. Strangeland is scheduled to go into production in September or October. We are shooting that in Ohio. That won't be released until 2010 and not in 2009. Needless to say… I'm pretty busy!
Gus: With your busy schedule, I'm amazed that you even found time to talk to us today. I really appreciate you taking time out to talk to us at
Backstageaxxess.com.
Dee: I'm not full of shit dude, but I try to talk to as many as I can. College radio, Internet radio, even book reports. I tell my assistant if we can
squeeze it in, send it in. This is where it all starts. The support of internet and things like this is really grassroots and I get the value of what you are doing!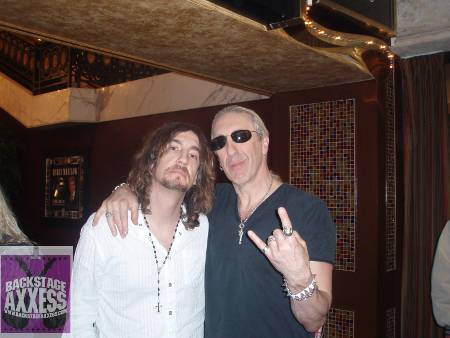 We would like to thank not only Dee for his time, but his assistant Sheryl Buckridge, for setting up the interview. For more information on Dee you can go to: www.deesnider.com and for more information on Twisted Sister you can go to: www.twistedsister.com.