When talking about some of the most influential guitarists of all time surely Eddie Van Halen, Jimi Hendrix and Eric Clapton are names that immediately come to mind and are synonymous with the electric guitar. After all, their talent is second to none. But sometimes playing guitar is more than that. One of the most influential guitarists, that arguably may not be the most technically sound or the most musically proficient as the aforementioned, but has definitely influenced maybe even more than all three combined is former Kiss original guitarist Ace Frehley. Ace is set to launch his first solo CD in 20 years entitled "Anomaly" on Bronx Born Records. I talked with Ace on a variety of subjects including his relationship with Les Paul, his love of computer design, how it took so long to complete the new CD 'Anomaly,' and the possibility of him ever rejoining his former band mates in Kiss. Let's set this Rocket Ride into motion and see where it takes us.
Gus: Hey Ace, how is the day going so far?
Ace: Long day doing lots of interviews for the new album.
Gus: We won't waste any time and get down to it. It's been 20 years since you released your last solo record 'Trouble Walkin.' Describe what the fans will be getting with 'Anomaly?'
Ace: I was reading a lot of my reviews and what the fans were saying about me. Most fans site my first solo album with Kiss as their favorite record. So, what I tried to do with this album 31 years later is to model this album more like that album than any other album I did in the past. I just did an interview and the interviewee said to me, "Yes, I think you achieved that as you can call the album; son of!' (Ace laughs)
Gus: You really took your time with this effort. It was a process of over 2 years to complete. Was this a planned process for it to take this long to finish?
Ace: It was along tedious process for a couple of reasons. Like you said, I havent done in an album in 20 years so I had to reacquaint myself with the studio and really reacquaint myself with pro tools. I actually got a teacher, a guy who teaches this in school, and he gave me some great tips and lessons. So it took me a while to get acquainted with pro tools as this is the first time I ever done an album totally digital. So once I got the hang of it you know, it then started speeding up the whole process.
Gus: What other players contributed to 'Anomaly?'
Ace: I did almost all of the guitars and lead vocals. Anton Fig played drums on most of the tracks. Anthony Esposito, my touring bass player, played bass on 2/3 of the tracks. My touring drummer Scott Coogan played drums on "Sister," on of the heavier tracks on the CD. Pretty much thats it except I had a couple of guest vocalists on "Genghis Khan."
Gus: Didn't Meatloafs daughter Pearl Aday contribute to that song?
Ace: Yes, she sang on the chorus. I produced it except for "Fox on the Run," which is produced by Marti Frederiksen. That was another reason it may have took a little longer than if I would have hired a producer. When you hire a producer, they keep you on schedule. When your doing it yourself, you are your own boss and sometimes you are your own worst enemy.
Gus: A little bit of Axl Rose there huh?
Ace: laughs
Gus: Will your 2009 touring band consist of once again Anthony Esposito on bass, Scott Coogan on drums, and Derrick Hawkins on rhythm guitar?
Ace: Im trying to keep the same lineup. It may change. Nothing is written in stone.
Gus: When can we expect you going out for a full fledge tour?
Ace: In the fall. I think we already have a date booked in New York in the first or second week of October. We are trying to piece it together right now. We are definitely going to Europe, Australia, and Japan too in 2010.
Gus: What songs can the fans expect for you to play live off of 'Anomaly?'
Ace: Well, its probably a wait and see thing. We will definitely be performing "Outer Space," which is the first single to be released on Itunes on the 25th of this month. Which ever ones the kids like the most are probably the ones we will do live, since we want to make the fans happy you know?
Gus: Right. "Outer Space" which is the first single off of 'Anomaly,' like you were saying. Who decided it was going to be the first single? Was it you, the record company, or collaboration?
Ace: It was a collaborative effort. I surrounded myself with a whole new team. I'm working with a great company Rocket Science on marketing and distribution. It's on my own label called Bronx Born Records.
Gus: That was another question I had is how did your own label come about?
Ace: I just came up with a name (Ace laughs.) You know bada bing bada boom ya know?
Gus: You also do a cover of Sweets "Fox on the Run." Why did you decide to cover this song?
Ace: I was kicking a few different songs around in my head because I wanted to do a cover. I've done some cool covers in the past. This girl who does makeup for me Pam Aresti came up with the idea. She said, "Ace, this song would be perfect for you." Once I shared the information with the people I was working with everybody jumped on it and said 'yeah, she's right!" So basically I hired Marti Frederiksen and Anthony Cox to mix the album out in LA. I came out here (ed. note: Ace was calling from the Gibson Showroom in Los Angeles) with my assistant Frank. While we were mixing, I took a day off and tracked that song "Fox on the Run" with Marti Frederiksen. He programmed all the drums and background vocals and played bass. We had the song pretty much finished in 4 and a half hours.
Gus: The song sounds great!
Ace: Thank You!
Gus: I really dug the tune as its done your way but it still has a reminisce of the classic so I think you did a great job on it.
Ace: We actually replaced the program drums with Brian Tichy.
Gus: Brian Tichy of Billy Idol correct?
Ace: Yes, but now is with Foreigner. Marti brought him in to replace the program drums so we had live drums that gave it a little more swing feel. We did the guitar solo the following day and thats pretty much it.
Gus: I want to let the fans know that they can get 'Anomaly' in a special limited edition vinyl and the European fans can get a special digipak release of it. Did you design the digipak?
Ace: I did all the graphics pretty much. The art guy at Record Science Brian (I forgot his last name) came up with the packaging and did a wonderful job.
Gus: It actually looks really cool. Any other special goodies that you be delivering to the fans like inserts and such?
Ace: Im pretty sure I will be doing an in store at Best Buy on LaBrea in Los Angeles on September 15th, the release date. The best way to find out where I'm going to be and whats going on is to www.acefrehley.com and click on the news.
Gus: There is a rumor you were going to do a special promotion regarding 'Anomaly' at Cobo Hall in Detroit. Is that still going to happen?
Ace: We are still waiting to hear the final word on that. We have been talking with the people there for weeks. I still havent heard the word that it is final. We are trying to make it happen though.
Gus: Like you said, you will be doing the in store on LaBrea and to check www.acefrehley.com but is there anything else set in stone yet?
Ace: (ed. note: his publicist tells him about the gig at the Viper Room) The Viper Room on September 12th. We are doing a short set. We will be doing the new single and probably "Fox on the Run." (ed. note: his publicist chimes back in and reminds him about the Sunset Music Festival as well)
Gus: A couple of weeks ago, guitar legend Les Paul died. How was your relationship with Les Paul?
Ace: That was tragic and it took me by surprise. I didnt know he was sick and in the hospital with pneumonia. I actually was on my way down to the Gibson showroom in New York City to do a sleuth of interviews like I am doing today here at the Gibson Showroom in Los Angeles and I got the phone call 15 minutes before we arrived there. So it was kind of a shock and put a damper on the day. Everyone at the Gibson Showroom, in fact, everyone at Gibson period loved Les and had a long lasting relationship with Les. It was sad. A few days later I went to the funeral at the Gibson Showroom and I got a chance to speak to Les' son and nephew. It was great on how many people showed up. There was a lot in the industry for him as he was the inventor of multi track recording and the electric guitar and so many other things. Just a wonderful guy and a great loss to the music business!
Gus: You did a guitar clinic at the Rock and Roll Hall of Fame last November with Gibson Guitar CEO Henry Juskiewicz and I was lucky enough to attend that. How was your experience from that clinic and can we expect any future clinics?
Ace: I had a wonderful time doing that. I've been friends with Henry for a long time and became acquainted with Henry when he first took the job at Gibson and we have been friends ever since. He was instrumental in getting my first signature series guitar out in 1997 and I have a new one coming out this year. It's going to be a blue burst instead of a cherry burst with some special features in it. It was a great time and cannot say enough good things about that.
Gus: When can the fans expect that guitar to come out?
Ace: Before the end of the year. Hopefully, September or October. It's a little behind schedule but thats ok. Sometimes good things take a longer time to do and finish up.
Gus: Where can fans expect to get this guitar?
Ace: I would imagine in any good music store or the same place they got the first one. One of the major differences is the new one is going to have custom pickups made by Gibson. We will probably release that pickup is a separate item. Its going to be clear plastic Humbuckers with blue metallic wiring.
Gus: Sounds great! Will you be doing any promotional appearances regarding the release of the new guitar?
Ace: I'm sure I will but we havent booked any because the guitar isn't released yet.
Gus: Going back on the Rock and Roll Hall of Fame experience, later that week there was a show to honor Les Paul with artists like Slash, Billy Gibbons, and Richie Sambora to name a few. How come you didn't take part in that?
Ace: I was supposed to be a part of that but I made a previous commitment. I was out on the west coast but I was there in spirit! I just couldn't be there in person.
Gus: A couple of years ago, you did a commercial for Dunkin Donuts and put back on your iconic spaceman makeup to take part in this. Even though this is your original design, did you have to get special approval from Kiss to use it in promotions like this commercial?
Ace: Yeah, I ran the idea by those guys and they were ok with it.
Gus: It was a very funny commercial. Were you approached to do any other commercials since then?
Ace: Not that I know of.
Gus: In 2006, you played a part in a movie called "Remedy" where you played a part as a drug dealer. How was it taking part in this movie like this and can we expect any future roles?
Ace: It was a lot of fun! It wasn't too hard for me to fall into that part (Ace cackles.) I thought it was an interesting cast. I thought the movie was ok. I knew the producer and some of the people in the film so it wasnt really hard to just fall into that.
Gus: Any other future movie roles or you just going to concentrate on what your doing with the new CD and if something comes along it comes along?
Ace: Say that again?
Gus: I know youre concentrating on your new CD right now but if another movie roll comes your way would you feel like doing it?
Ace: Oh Yea! I always had fun acting, even though I've done so little. I'm willing to do anything that will help get me out there. A movie will help sell your records and the records help sell the movie. Anything I can do like that is something I should seriously consider and there also so much fun to do!
Gus: I'll tell you what, you just got a lot of publicity a couple of weeks ago when country sensation Taylor Swift came out dressed like you at one of her shows. Did you see that clip on the internet?
Ace: It's funny you should mention that as I was just talking to my publicist Kymm Britton (Ace laughs.)
Gus: What were your thoughts on that?
Ace: We just thought it was really good timing since I have a single out and the record will be released in a couple of weeks. Couldn't be better timing and you can't buy that type of publicity.
Gus: No you cannot. The whole band came out dressed as Kiss and she played the part of you and sang a song with Keith Urban and it went off pretty well.
Ace: You know, I thanked her on my Twitter page.
Gus: Did she get back to you?
Ace: Yea, she Twittered me back saying "Oh my god, Ace Twitterred me!" It was sweet.
Gus: A couple of days ago I saw Peter Frampton perform and your old bass player John Regan was playing with him. Do you have any rapport with him or any of your former band mates like Richie Scarlett, etc?
Ace: I haven't talked to Richie or John in a long time. Its just one of those things you know? There are no bad feelings. It's just that I'm doing one thing and they are doing something else you know.
Gus: You mentioned that Anton played on your new CD so you still stay in touch with him obviously.
Ace: I have been friends with Anton ever since my first solo album in 1978 and we have had a long lasting friendship. I try to get him on everything I do because he's my favorite drummer.
Gus: He is a great drummer! In 2001, Gene Simmons remarked in his book that the shows with you in Australia earlier that year were some of the best shows he has ever done with you. Would you ever consider playing with Kiss again if the opportunity arose with Eric Singer or would it have to be the original band for you to consider it?
Ace: I don't really think about that I did two runs with those guys and right now Im really focused on the new record and a new Ace Frehley tour. People say never say never and I'll say that but I dont see that happening.
Gus: You are really into computer art design and designed your work for the new CD. In fact, you had some art shows in the past of your work. Any future plans to do more of this?
Ace: Yea! It's something I want to do definitely down the road. Its just something that has to wait and is on the backburner simply because its really hard for me to do music and art at the same time as it kind of distracts me. A year or two down the road I would definitely like to get my artwork out there more and do so some shows the way Paul Stanley has been doing them the past few years. It's something I need to do and it's something the fans will want but right now its something I have to put on the backburner.
Gus: In talking about getting you out there you recently got on stage with some major acts like Nickelback and a super group back in April with Alice Cooper and Scott Ian and also in the past with Pearl Jam. Is that something you like to do and want to do or is it something you just pick and choose on what comes along to do?
Ace: I love doing stuff like that because its spontaneous and 'Im there and I'm invited to do it. I think it's good for them and its good for me. When those opportunities arise you just jump on them because they are a lot of fun and its spontaneous and the audience likes it. Its like a win win win situation for everybody!
Gus: How was it playing with Nickelback in front of a sold out crowd playing an AC/DC track?
Ace: It was a lot of fun! I was actually really late for that. I pulled up in a sports car and I literally jumped out of the car and walked into the backstage entrance and a guitar was thrown on me and I walked out.
Gus: That's Rock and Roll though right?
Ace: Uh -Huh. I loved it!
Gus: One of your songs on the new CD "A Little Below the Angels" has some little girls singing the chorus. Do these girls have any relations to you or did you just hire someone to do that part?
Ace: What happened was a good friend Mike Supa, who is a guitar player who right now is working with the original bass player from Alice in Chains. I called him up because its something I wanted to do. I was on such a tight schedule that I was having trouble scheduling little girl singers. I called him up because he has a 5 or 6 year old daughter and I asked him does she have any friends who can sing? An hour later he shows up to my studio with three little girls there. We just doubled and tripled it to sound like there was more than three there. I got my daughter to do the speaking part because she was up from Florida. Thats how that happened. It was just spontaneous again and it was just like one, two, three, takes and done. I think it comes through on the recording.
Gus: It was a pleasure talking to you today and want to congratulate you on your sobriety! We hope you stay well and continue to put out great music like your doing right now with this CD. We look forward to you on the road as well!
Ace: It was a pleasure speaking with you today and I'm really excited about the new record. I put my heart and soul into it and I hope the fans like it! I want to say thanks to all the fans and to you!
Check out the video promo for the upcoming release of 'Anomaly' below: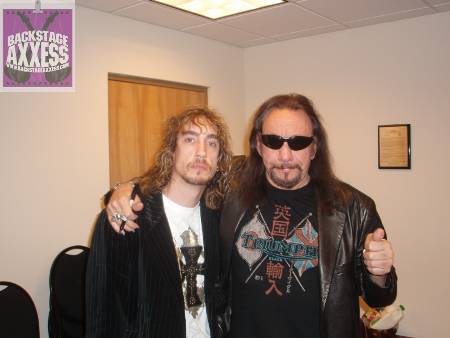 We would really like to thank Kymm Britton of 60 Cycle Media for slotting us in to talk with Ace. For more information on all things Ace, go to: www.acefrehley.com and remember Ace's new CD 'Anamoly' will be out in stores everywhere on September 15, 2009!