For well over 25 years there has been plenty of discussion of "What is Rock?" and "What is Metal?" One thing that needs no discussion is what Dave Mustaine has meant to the world of metal and music overall. He is a pioneer in the metal genre and has fronted Megadeth for 27 years. With the recent return of original bassist Dave Ellefson, Dave Mustaine has new outlook on the band and the direction its heading. If you have followed Daves career, you would know that he is a master lyricist, who writes about the current state of politics and governmental issues. He is very in tune with current affairs and many people may not know this, but he helped the motor voter bill get passed back in the early 1990s (It makes it convenient to register by requiring all states to allow people who apply for a license to also register to vote, whether they conduct business in person or by mail.)
Dave and Megadeth are currently on tour doing a 20 year anniversary show of the 1990s Rust in Peace album in its entirety. The band also just released their 12th studio album called Endgame in September of 2009. We at Backstageaxxess.com were lucky enough to sit down with the guitar legend before he took the stage for a recent show in Buffalo, NY. We talked about everything from what the fans can expect when they see the band live, to whether or not there will be a Big Four Tour in North America at some point? We also talked about the current state of record companies. Dave is very candid in his answers and he pulls no punches. So far .. so good so lets get to the interview.

Part 1:
Part 2: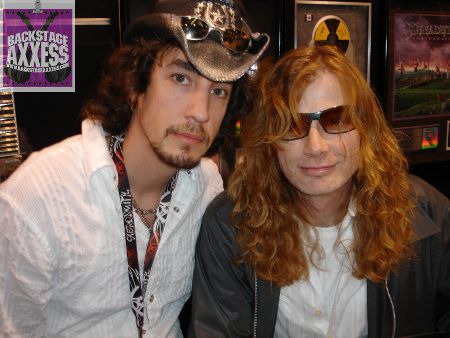 Me and Dave at the 2007 NAMM Expo.
We would like to thank Amy Sciarretto of Roadrunner Records from Roadrunner Records for setting up the interview and Andre Augustine and the rest of the Megadeth crew (esp. Katie) for their hospitality! For more information on Dave and the current Megadeth tour, please go to:
http://www.megadeth.com/home.php
.