If you're not familiar with the latest Fozzy song "Judas," you must have been hiding under a rock these past few months. The song is literally blowing up the rock charts and is a staple on Sirius/XM's Octane channel, not to mention a damn catchy tune. A lot of people think Fozzy are a new band but that is definitely not the case. The band in fact got their start way back in 1999 playing cover tunes and have been releasing killer albums of original material and paying their road dues ever since. Their latest and seventh full length record "Judas" is about to be released. It's  an absolute beast of an album and no doubt will continue to dominate the charts for quite some time.
Fozzy spent the summer playing some of the biggest rock festivals in the country as well as headlining dates on their "Judas Rising" tour. They will be heading to Europe soon but will launch "Fozzy Across America" on October 14th. They will be playing in three different cities in three different time zones in the same day starting off in Fort Myers, Florida before heading to Texas and ending the evening in style at the Hard Rock in Las Vegas. BackstageAxxess had the chance to catch up with frontman Chris Jericho to find out all the latest happenings with Fozzy as well as his latest book, and his career with the WWE. Please join us for a conversation with the multi-talented Chris Jericho.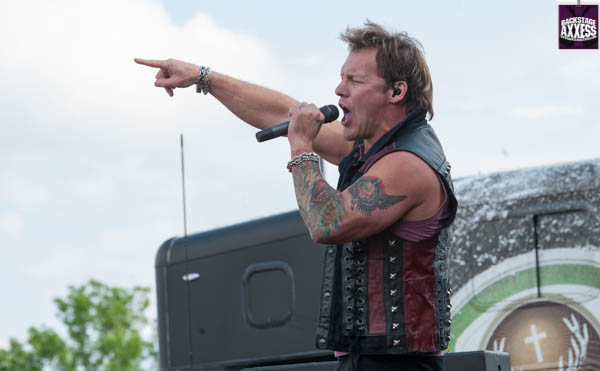 We would like to thank George Vallee from Seek and Strike Agency for setting up the interview with Chris. For more information on Fozzy including the new CD "Judas," please go here: Fozzy. For information on Chris Jericho himself,  then click here: Chris Jericho.