Its an exciting time for DJ Ahba as he debuted his new pedal at the Morley/Ebetch booth during the 2018 NAMM tradeshow. The pedal is called Skeleton Wah and we talked to Ashba about it. Lots of rumors are swirling around the current status of SIXX:A.M. Guitarist DJ Ashba gives us the lowdown on whats happening with his band. In addition to this, we talked about the Ashba clothing line and a little surprise the fans can expect to see in the near future from Ashba.
One of the nicest guys in the business, its been too long but we welcome back to BackstageAxxess DJ Ashba!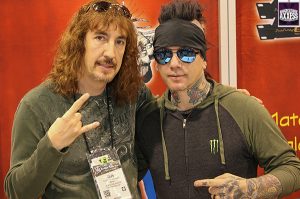 We would like to thank Nancy Wenzloff from Morley/Ebtech for setting up the interview with DJ. For more information on the new Skeleton WAH pedal, please go to: Skeleton WAH pedal. For more information on everything DJ Ashba, please click here:DJ Ashba. If its SIXX:A.M. your looking for, you want to go here: SIXX:A.M..