The voice of rock Glenn Hughes made an appearance at the Reverb booth during the 2018 NAMM tradeshow.  After his appearance at Reverb, we grabbed the Rock and Roll Hall of Famer to talk about a variety of things including his recent contribution to the new Joe Satriani album "What Happens Next?" We also dove into Black Country Communion and his relationship with Country megastar Eric Church. In addition, we found out if Hughes will be on tour and where. Hughes has been attending NAMM for over 30 years and he chats about his thoughts about the trade show.
Sit back and enjoy this conversation with one of the most underrated musicians in classic rock, Glenn Hughes.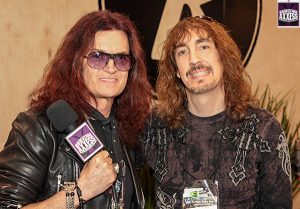 We would like to thank Lauren Tolliver and the staff at Reverb for their hospitality. For more information on Reverb, please go to: Reverb. For information on Glenn Hughes, you want to go right here:  Glenn Hughes. If its Black Country Communion your interested in, then click here: Black Country Communion.