One of the bright young stars in country music is Louisiana export Hunter Hayes. Hayes is one of the most talented artists you will find in any genre.  Hayes has been turning heads since his self titled debut album back in 2011. Hayes made an appearance at the Shure booth during the 2018 NAMM tradeshow. BackstageAxxess were able to grab Hayes after he was done meeting his fans for a quick impromptu interview.  We got the lowdown on the progress of new material as its been a few years since the "21 Project" was released (2015). We also talked about if Hayes plans on touring and what else the fans can expect from him in 2018.  Of course, Hayes chatted about his relationship with Shure and what he thinks about the microphone company.
It was real pleasure to talk to Hayes and you will see how genuine he is during this interview with us on BackstageAxxess!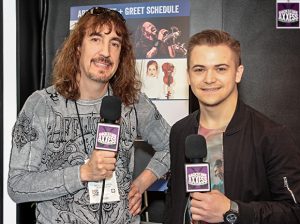 We would like to thank Shure for helping to set up the interview with Hunter.  For more information on Shure, please go to: Shure. Fore more information on Hunter, please click here: Hunter Hayes.