Wally Palmar is the voice and guitarist of one of the best things to come out of Detroit since the Model T Ford, The Romantics. Palmar's latest gig is with Ringo Starr and his Eleventh All Starr Band. Palmar will be singing the Romantic's hit songs "Talking in Your Sleep" and "What I Like About You." Palmar took some time for an impromptu interview with Backstageaxxess.com during a recent press conference for the All Starr Band at the Fallsview Casino in Niagara Falls, Ontario, Canada. Palmar was having the time of his life in the All Starr Band and we had a great time speaking with a rock legend in his own right.
Thom: How did you land a gig with Ringo Starr?
WP: To be honest, to this day I am really not quite sure. I got a call from Ring's camp back in August. They contacted me and asked me if I was interested in doing a tour and then I had to call my agent and ask him if it was for real. I asked "why me?" First you have to ask yourself, with all the talent that is out there, why would he choose me. But I didn't have too much time to think about it because they wanted an answer and of course I said, "yeah, I would love to do it." Then I hoped I would pass the audition. Then we started communicating, they checked my availability. The only hitch was when they asked me for my social security number, I figured they needed it for a background check or something, and you should check somebody's background if they are going to travel with rock-n-roll royalty. So after I gave them my social security number, I didn't hear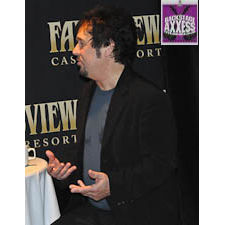 from anybody for like two months. I was like "oh crap, maybe they found something out," and so I asked my agent about it and he made a phone call. He called me back and said, "as far as they are concerned, you are in." Then I thought to myself," that's great! Let's get this thing going." Before I knew it, I had a bunch of CD's with songs that I needed to get to know. I was sitting up there today and looking at the people around me and I thought to myself, we got seven songwriters, seven accomplished musicians and seven really good singers. Where do you assemble that level of talent? If you try and put a band like that together and you just can't. Well obviously one person can. I knew the songs, I've heard Rick Derringer's songs on the radio for years, and Edgar Winter's too. Gary Wright, with Spooky Tooth and others. I knew the songs.We did shows with Mister Mister in the day but I never really had to dissect the songs. I mean I sang along with the Beatle's songs on the radio but I really had to buckle down and learn these songs. This last week (of rehearsals) hasn't been easy but I got through it. My whole thing was if I passed the test and didn't find myself on a plane back to Detroit.
Thom: Did you have a formal audition?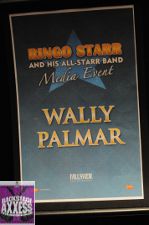 WP: No, they just told me "here is the stuff, now learn it." I'm just a rhythm guitar player, aharmonica player, whatever they needed in the Romantics. Preparing for this show, I had to study a lot and I had not studied this much since I started playing guitar.
Thom: Yeah, I mean the Romantics stuff, that is mostly power chords, it must be pretty cool to be playing with a guitarist like Rick Derringer.
WP: He is teaching me!
Thom: Now with all those songs and such a big group, who does the arrangements?
WP: There are some songs the band did a couple of years ago so we stuck with those arrangements. We all came into rehearsals with some idea of what we wanted, I came in with some ideas about The Romantics songs, Rick had some ideas about his stuff and we have a very gifted musical director, a guy named Mark Rivera. He ties all of our ideas together and makes sense of our rambling.
Thom: Mark Rivera's quite a talented sax player too, I recently saw him with Billy Joel and Elton John.
WP: Keyboards, sax, guitar, arrangements, he does it all.
Thom: We are running out of time, so I will ask just one more question, what was it like the first time you met Ringo Starr? It must have been a dream come true.
WP: We're standing onstage singing "With a Little Help From My Friends" and I am standing next to him and I still just can't believe it. I told the drummer, Greg (Bissonette) to have the smelling salts ready for when I see Ringo playing "What I Like About You" or "Talking in My Sleep." Ringo is a rock-roll guy at heart.
We would like to thank Elizabeth Freund and Kathryn Musilek from Beautiful Day Media and Elaine Christenson from The Fallsview Casino for allowing Backstageaxxess.com to cover such a unique event. For more information on Ringo and his All Star band tour, please go to: http://www.ringostarr.com/tour.php.