Another Lost Year is about to release their first full length album, "Better Days" on Megaforce records. If you haven't heard of them yet, you will be soon. The album is a showcase for the tremendous songwriting talent of lead vocalist Clinton Cunanan and the first single, "War On The Inside," is climbing up the Sirius octane charts. I had the opportunity to chat with Clinton and get the inside scoop on the new record, their tour, and what lies ahead for Another Lost Year.
KE: Hi Clinton. Thank you for taking the time to speak with us today. For those who aren't familiar with Another Lost Year, can you give us a little background as to how the band began?
CC: Sure, We are from Charlotte, NC. We've been together a little over 16 months. It originally started out as a solo project for me. I found some guys who were willing to help brand me as a solo musician and then it kept going and it turned into a full band project. This is what we turned into.
KE: Did you get started here in Charlotte playing the local clubs?
CC: Well actually, the first show we ever played was in Lancaster, SC. We really got some shows in Mooresville, NC, and then Charlotte started showing us some love a couple months later.
KE: Charlotte is not really known for its music scene. What were some of the challenges you faced early on?
CC: Well, with you being from Charlotte you kind of understand what the scene is here. I don't know. The hardest part really for us in Charlotte was to get into some of the premier venues like Amos's, the Music Factory. But once we broke that and we had the support of the major venues, it did get a little easier.
KE: Another Lost Year was voted best rock band in the Carolinas last year. Were you surprised by that or did you already have a really big following in the area?
CC: I mean of course we were surprised. Some of the other bands we were up against were really good bands. I think for us to win we were surprised. When we got nominated we had no clue. We didn't have a super huge following but there were decent shows, but of course, we were surprised.
KE: The new CD, "Better Days," is dropping soon, September 11th. Can you give us a little insight on the new album?
CC: Insight on the album, well it's definitely a look into my life. Each song is a piece of time for me. We've got some of the harder stuff and some of the softer stuff. We've got a little bit for everybody I think. It just really shows all the emotions that a person goes through I think throughout time.
KE: The songs are really heartfelt and touch on a lot of emotional issues. Are you responsible for the songwriting or did you have outside help?
CC: No, I about 95% wrote everything myself. Adam helped a couple things. He'd bring me some ideas but lyrically it's me.
KE: Who were some of your main influences as far as songwriting?
CC: 90's alternative and stuff like that. Better than Ezra, Live, Bush, those are really big for me. But probably the most lyrically influential is Aaron Lewis because every song that he has, I swear to God, I was like does he have cameras spying on me because he's writing about my life. I don't' know what it is but I've always felt like if we were to get where we are now that's what I would want and I guess inadvertently we were successful in conveying that.
KE: The first single, "War On The Inside," is clearly about overcoming struggles. Is there a story behind the song?
CC: I can't really remember the exact situation that I was in. But I do know that I was going through a really hard time. My mom had died two and a half years ago and she had been dead about a year when I wrote "War On The Inside." I just remember being in a really dark place. I had this idea to write and I kind of felt that either way I went was life altering. You know, once I made that choice there was no turning back. And that was kind of my way of, kind of my therapy for it I guess.
KE: The songs are very easy to relate to and there is almost an immediate connection, a kind of feeling comfortable with the music. Was that something you set out to do?
CC: What you said is exactly what I wanted to convey. I wanted people to feel a sense of familiarity, everybody can relate to it. You might not know exactly what was going on but you had a good idea of what was going on. And you think hey, I've been here before so let me take a listen and see what happens after that.
KE: Justin Rimer produced the new record. Was that a good fit for the band? Would you like to work with him again?
CC: Absolutely. I don't mind if Justin does the rest of our albums from here until we can't do any more albums. Absolutely was the best experiences of my life musically, recording, has been with Justin. We did "War On The Inside" actually in February of this year. We just went in and did the single while we were out on tour just to kind of get it out. And then at the end of the tour we went right into the studio on April 23rd. To have to be locked in a studio with Justin and with Jason our engineer, I couldn't have picked two better guys for a production team.
KE: There's a video out for "War On The Inside." Was that your first video shoot ?
CC: Yeah, that was our first legit video shoot I'll say. We've got a couple other videos. One of our old kind of like a manager had a production company and he did a really good job with some of the old material from our EP. He did a few videos here and there but for the most part that is the first all out production video that we've ever done.
KE: What was that experience like for the band?
CC: It was very weird (laughter). We drove 15 hours. We were actually in Madison, Wisconsin, and we got a phone call on Easter Sunday and they were like you need to be in Wichita tomorrow morning. We were actually having Easter dinner with a family that invited us in for Easter dinner instead of making us sleep in our van all day. We drove 15 hours through the night. In the video we look dirty and tired and that's because we were dirty and tired. I mean we got out of the van and jumped on the set.
KE: Will there be more videos for the album?
CC: Yeah, we've got our eye on a couple songs we want to do and I've got some really good ideas for a couple of them. I'm excited to shoot the next video?
KE: What about a tour? Are you out on the road now?
CC: We are, we're in the middle of a tour right now. We're actually back in North Carolina for a few days. We were supposed to do a couple things and the cd was supposed to come out today so everything had been routed back to North Carolina. We're currently in the middle of a tour. I think this one runs until September 2nd and then we're home for a week and then we take off to the west coast for the next two month run.
KE: Is this a solo tour, or are you touring with someone else right now?
CC: Right now with Shallow Side from Alabama. This tour has kind of been pieced together but for the majority of it with Shallow Side, Prospect Hill.
KE: Will you be coming back to Charlotte for the CD release?
CC: I want to. I absolutely want to. We love Charlotte and with the album coming out September 11th now I think we're in Vegas on the 11th which coincidentally enough is my birthday.
KE: Well if you can't come home, Vegas is a great place to be on your birthday.
CC: Yeah, I can't complain. I look at it this way. Some great things have happened on September 11th and some tragedies have happened. I was born on September 11th. Obviously eleven years ago, the World Trade Center and then here we are September 11, 2012. We drop an album, "Better Days."
KE: What has the reaction been to the new material?
CC: Great. I've got people that come up to me every night that tell me stories. Some of it, I have two stories in particular that really stand out. In Wilmington, Illinois, this guy named Brian, him and I have become really good friends. His Goddaughter had drowned a couple of days before and he emails me the next day after he sees us. And he's like, man, I've been listening to your music. It really is helping me through this hard time with his twenty month old Goddaughter drowning. That, that meant a lot to me. We were actually in Ohio a couple weeks later. And the night that we played was the ten year anniversary of this woman's husband's death. To see her talk to me about some of the songs that I had wrote and the emotion that was in her I knew that I had struck something inside of her. And it was probably the most moving thing that I have ever witnessed with my own eyes from a person going through emotions. So the reaction to the music has been great. We can be in Abilene, Texas, and there are people in the crowd singing our songs and people are latching on to it. It's been really good.
KE: Awesome, those are some great stories and that's the beautiful thing about music. It's there to help us celebrate the good times and there to help us through the bad times.
CC: Absolutely, right.
KE: You've toured with some well know bands. Is there a favorite or someone you would like to tour with again?
CC: You know we owe a lot to Pop Evil indirectly. Most of them don't realize that. One of the guitar players, he helped us so much just by taking 15 minutes of his day and sitting down talking with me and explaining to me a couple things. We love those guys. I love playing with those guys. We always kill it in merch with them so obviously I'm biased to that. You know, the Framing Hanley guys are really good. We've done a couple festivals with Sevendust and stuff like that . They were awesome, big heroes of ours. I grew up listening to them so I was listening to Sevendust and the big nineties alternative movement. Sometimes I get really starstruck when I see some of these guys. It's tough not to kind of act like a girl, I guess, so to speak (laughter). Can we get some pictures? What's going on here? I love them all, the 10 Years guys are great and we're actually doing a couple dates with Deuce from Hollywood Undead. The most personable and fun out of anybody, those guys have been. They were actually stealing our food the last time we were together and it got kind of ugly (laughter). But it was all in good fun.
KE: What lies ahead? Where would you like the band to be?
CC: Obviously, I want to be as big as possible. But definitely having several major tours, at least another album out. But I think really what we all want to do is we never thought that we would help bring back rock a little bit. I think we kind of are and I hope that in 10 years we'll be at the forefront of that revolution to help bring back live music. Because it's kind of dying now. I just hope five or ten years from now people are still remembering what we did. We go out and support music when we're not playing and we actually took the time to care and write some quality music.
KE: I have no doubt that in five or ten years you will be there. Thanks so much for chatting with us today here at backstageaxxess.com.
CC: Thank you!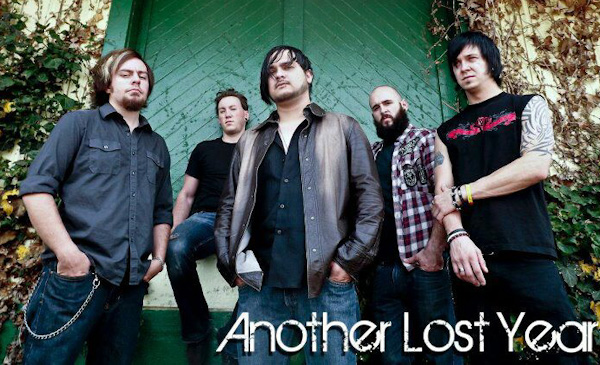 We would like to thank Shauna O'Donnell from New Ocean Media for setting up the interview with Clint. For more information on Another Lost Year, please go to: Another Lost Year .