Since the mid-nineties, hard rock fans have enjoyed the songwriting talents of Aaron Lewis of Staind. With songs like "Outside" and "It's Been Awhile" becoming modern classics, Aaron has become the singer/songwriter of a new generation. His recent solo efforts have taken a turn towards his roots with a gritty, country flavor, bringing his poignant songs to an even wider audience. Aaron is currently out touring in support of his latest album, "The Road." I had a chance to speak with him about the new record and the tour. Let's see what he had to say.
KE: Good Morning Aaron. Thank you for taking the time to talk with us today.
AL: My pleasure.
KE: Your latest album, "The Road," has been out for a few weeks now. The title seems a perfect fit since you were recording in between solo tour dates and Staind tour dates. How did you manage to fit it all in and were there any difficulties along the way?
AL: Well, very precariously. You know, it was a situation where I would play three or four nights in a row with Staind and then on the day off, when I should have been resting my extremely blown out voice, at that point I would go to Nashville and record for the day and it was a pretty crazy, pretty hectic schedule to try and keep. Sometimes you just got to do what you got to do.
KE: This is your second solo record. How does "The Road" compare with your 2011 release, "Town Line?"
AL: I think this is where I was headed. I think that "Town Line" really just was, in hindsight, an in between record, kind of a transitional record if you will. I think that I got halfway to where I wanted to be on that record and I think that this record is what my destination was.
KE: What was your writing process like for this record and how does that differ from when you're writing for Staind?
AL: I think the major difference is that I didn't have to share creative liberty with anybody. I was able to basically, you know, write and produce all of these songs without very much outside input at all. And that was huge, you know, to be able to just be turned loose instead of having somebody try to guide me through. That was a pretty amazing experience for me.
KE: There is a collaboration on the new record with the song "Grandaddy's Gun." What prompted that and would you be open to future collaborations as far as writing goes?
AL: I don't know on the collaboration thing. You know it naturally occurred because I've been friends with Rhett Akin for awhile and I heard the song in the setting of not necessarily using the song. I just kind of heard the song naturally. We were hunting deer somewhere and after the day's hunt we were all sitting around the campfire and somebody put a guitar in his hand and he started playing that song. I was completely blown away, and then the time came and I was under such duress trying to get this record recorded while being out on tour with Staind. It was just the crazy schedule that I was trying to uphold. Here's the thing. It wasn't out of necessity. I've never recorded somebody else's song in my entire career. I've put out eight records and been around for most of fifteen years and that was the first song I ever recorded that somebody else wrote. It isn't the beginning of a trend. But in the situation I was in, where if I was in that situation again where I was out of time and I had a really good friend that wrote an amazing song that I wished that I had written myself, maybe in that situation it would happen again, but it certainly wasn't out of necessity.
KE: You brought in some fantastic musicians for the recording of "The Road" like Ben Kitterman and Paul Franklin. After so many years of working with your bandmates in Staind, was it a difficult adjustment to make or was it an easy fit?
AL: There was a chemistry immediately. You know it was actually a cool, different experience to have a bunch of musicians working with me that were just sponges and took what it was that I was saying and ran with it. It was cool. It was different. You know it's always gonna be different in a situation like that, coming from a band where obviously all four people have just as much say and all four are bringing their creativity to the table. The way I did it, where it was more me being able to call every shot, it was just a cool experience.
KE: You're out touring in support of "The Road" and will be making a stop here locally at Club Infinity in Williamsville, NY, on the 13th. How is the tour going so far?
AL: I've been out for about a month now. It's amazing. Amazing! I'm able to play places like the Dusty Armadillo and Billy Bob's and all these cool dirty honkytonks that are just like the best place in the world for me to play this show. The vibe has been really cool.
KE: Do you prefer the intimacy of the small clubs versus the big arenas?
AL: You know, there are pros and cons to both and they seem to be the perfect polar opposite of each other. At a big show, you lose the intimacy. At the little show, you lose the bodies.
KE: What can fans expect to hear at the show? I'm sure the focus is on the new record, but will you be doing any Staind songs this time out?
AL: I have been playing a very country set. I have thrown a couple of the songs that I wrote a long time ago into the set but for the most part the evening is songs off "The Road" and songs off of "Town Line."
KE: Are you working on anything with Staind right now, any new music?
AL: No, nope.
KE: OK, so your focus is completely on "The Road" right now?
AL: That's right.
KE: Aaron, a lot of up and coming bands and younger artists cite you as a major influence both musically and lyrically. Can you tell us who some of your influences are?
AL: Oh, that's cool. Yeah. My musical influences are quite broad in their spectrum. The biggest musical influence in my life was my father. My father was very musical and my household was very musical. Really, I can't give all the credit to my dad, my mom was very musical too and there was band practice at my house all the time. My dad used to play acoustically like I do at times, a few times a week and he had a band as well. So my household was very musical and you know my first musical influences were what I was exposed to by my dad, by my grandfather, my musical sources if you will. As time went, maybe through high school, I had that timeframe where I was all about the eighties hair metal. It didn't last very long. Then I kind of I got into all the old stuff like Zeppelin, the Doors, the Who and Pink Floyd. I mean Pink Floyd's "Dark Side of the Moon" has got to be one of the best records ever recorded, ever. And then as I got out of high school I kind of went heavier and darker and got into Pantera, and Sepultura, and Slayer and that type of stuff. And then, Seattle happened and when Seattle happened, you know, that blew the doors wide open for me as a singer. I can sing like the eighties hair metal guys but I wouldn't want to, number one. Number two, it's a tough thing to do all evening because you're not singing with your real voice. You're singing with some sort of manipulation for the whole time. So when Seattle came around, Pearl Jam, Alice In Chains, Stone Temple Pilots, that changed everything for me. That really kind of created the opportunity for me to find my opportunity.
KE: I have one last question for you Aaron. The songs on "The Road" seem to be so much more than just songs, but more of personal stories. Was country music a natural progression for you to take?
AL: I mean that's what country music is, it's always been storytelling. There's a reason why I chose the direction that I chose because after many, many, many times of analyzing the situation, it's where I fit the best. It's where my political views fit the best. It's where my lifestyle fits the best. It's what I tend to choose to listen to when I'm at home driving around in my truck. It fits me better than the fourteen year career that I had, just as an individual if that makes any sense. Most people associate rockstar with you know L.A. and that lifestyle and I live in a town of 1,200 people. We have a garden that we have all summer long. We have chickens and goats and a house pig. I know every single person that lives in my town. I am country. I hunt. I fish. I do all of that. I'd rather be chest deep in a mudhole than out at some city bar. It's just me, it fits.
KE: Thank you so much for sharing that with us. Best of luck with the new record and the tour. I know people are looking forward to seeing you on "The Road."
AL: I'm looking forward to it as well. Thank you Kris.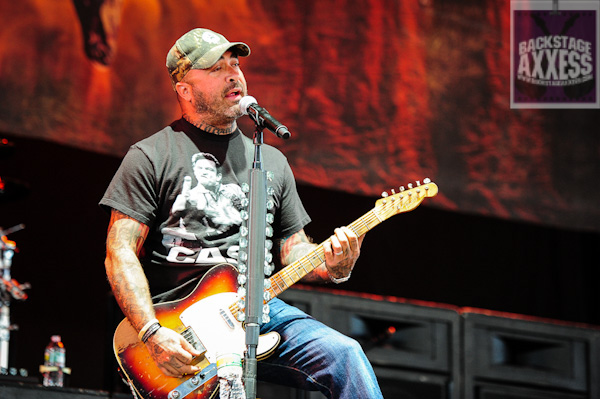 We would like to thank Karen M. Tallier from LOUDMOUTH Entertainment for setting up the interview with Aaron. For more formation on Aaron's new solo record "The Road," please go to: Aaron Lewis.
For more information on Aaron's date at Club Infinity in Williamsville, NY on December 12, 2012, please go to: Club Infinity.