With his signature riffs and detuned guitars, former Korn guitarist Brian "Head" Welch is one of the pioneers of the nu-metal genre. Since leaving the band in 2005, Brian has overcome his personal demons and is back with his terrific new band, Love and Death. I was able to speak with Brian as Love and Death wrapped up their tour with Thousand Foot Krutch and find what he's been up to. Join me as we discuss the new Love and Death record "Between Here and Lost" and his upcoming reunion with Korn at Rock on the Range.
KE: Hi Brian! Thank you for taking the time to talk with us here today.
BW: Yeah, thanks for having me. It's awesome.
KE: Last year, you got a new band together, Love and Death. Can you give us a little background on how the band got started?
BW: Yeah, when I left Korn in 2005, I started doing my solo music. Around 2008, I put out my album and toured a little. I wanted to put together a touring band after that so I had some people help me to hold You Tube auditions. So I held auditions online and I hired some band members and some came, some left but two of them are still with me, Valentine and Dan Johnson. And then I found our newest member on You Tube as well, J.R. Bareis. He's a guitar player. So yeah, it was all digital from the internet.
KE: J.R. is very young, only 17. Was there something special about him that made you feel he would be a good fit for the band?
BW: He was the only option available because one of the guys quit like two weeks before a tour and we needed one quick and he was the only option. We toured with him and just to me it was like, I remember when I was seventeen and if someone gave me a chance I'd have been so stoked and he was trying and so we decided to just keep going with him for the summer. And then it kind of blossomed into a band member over the next year and so just to watch the progress, I could tell it was meant to be.
KE: You have a new record out, the first full length release from Love and Death, "Between Here and Lost." Can you give us a little insight into the writing and recording process?
BW: We started it in the summer of 2011, just started writing. And then we were doing so much touring that we didn't finish it for a while. And then I was talking to labels about putting a full length out so it got delayed because of recording contract and stuff like that. So we kept writing and we finally finished it in the fall of 2012. What started was me and Valentine, the bass player, started recording the songs and then we had J.R. send some music over through email because he lives in Arizona and we lived in Nashville and then we just plugged away and kept writing.
KE: You also have a video out now for the song "The Abandoning" which is pretty intense. The whole album is intense with some heavy lyrics. What was your thought process, lyrically speaking?
BW: The producer brought it out of me. He was like it seems like it's your time now you know to have some success and to have your music grow and your band grow. He said I heard how much you've battled over the last few years and it seems like everything was working against you. So he said well, why don't you dig into those places and those memories and just start writing about that stuff. So that triggered to help me think about it. Basically, the whole concept of the album is walking through pain and circumstances that are negative and things that are coming against you and finding the strength to get through that.
KE: So it's a very personal journey which must have affected everything. Now that you're clean and sober and have this new beginning, how has that affected you musically?
BW: I think the musical thing is just evolving naturally. It's just different. In Love and Death, I'm able to do more melody than I've ever done in my whole life and so I think that's what I love about the music. It's just intensity and melody and so we have a different melody than I'm used to and it's really cool. Another thing that I've found is that we've had a lot of contributors to the album. The band members, the producer, and we even had some outside guys help with lyrics so it was just a big group effort.
KE: There's an interesting cover on the record of Devo's "Whip It" which was first released on the EP. Is there a special reason you chose to do something that different?
BW: I wanted to do a new wave cover from the 80s and Devo was like the weirdest band I could think of. Them and like Flock of Seagulls and so I don't know. I was messing around with the music one day. And I was like is there any way to make it a cool groove 'cause it was so dorky you know. But yeah, everybody laughed at me when I said I wanted to do that song. They didn't think it would work. But when they heard it, they really liked it. Me and the producer worked hard on it and when everybody heard it, they liked it.
KE: Love and Death just wrapped up a tour with Thousand Foot Krutch. How did that tour go and how was it being on the smaller stages and venues?
BW: Well, I started touring again after Korn in 2009 so I've been used to the smaller places. But we've been having small crowds since 2009, 2010, 2011. You know some big crowds but mostly when we headline there's small crowds. This one, this tour was opening for TFK and we had a great slot and we had a lot of fans there. It was just way different. There's a different level of power at our shows and everything's on a whole new level, everything. We tripled in our merch sales since the year before and it was just overall, even if we had technical difficulties like at a couple shows, we still had a great show. It was just really uplifting.
KE: I had the chance to see Love and Death last summer in Charlotte, NC, on the Invasion tour when you did a free show. It was a small crowd but very intense and a great time.
BW: Thank you so much. I appreciate it and you know even that show it was so hot, I think 100, that not that many people came out but I remember that show, I had fun with it. It was a good day.
KE: I also had the chance to see you last year at Carolina Rebellion for your historic reunion with Korn. You had been spotted walking around backstage and there was a buzz going around. People asking would he play? Did you plan on being there or was it a true spontaneous moment and how did it feel?
BW: It was totally spontaneous that I went there. I planned on going there the week before but I didn't tell anybody that I was going just for the fact that I didn't want it to be about me going or me jamming with them. I just wanted to go and bring my daughter there and just kind of hang out. She likes some of the bands that were playing. So the day before I let a couple of people know I was coming. It was like the night before and so I was just hanging out with them and then all of a sudden they asked me to jam with them. And I was like whoah, alright one song. And then when I did it I just felt like all these crazy emotions. I felt like I had returned home in a way because all those people were my family for so long. I mean I cared about them and it was just a great reconciliation day.
KE: Yes, it was the highlight of the festival, a real historic moment.
BW: You know that place has a special place in my heart. It was just, I loved it. I really loved it. You could tell how hungry the people were for the music and I loved it.
KE: So that brings you to joining Korn for a full set at Rock on the Range this year?
BW: Yeah, we're gonna create a setlist that we're all pleased with and we're just gonna go for it. I'm doing Rock on the Range. I'm doing Rocklahoma with them and I think they're gonna book a couple other smaller shows and also we are gonna hit the road in Europe and Love and Death is gonna open for Korn in Europe in June. So we're gonna go tour with them.
KE: So you'll continue to tour with Love and Death in between the Korn shows then?
BW: Yes, I'm going to be working fulltime. I'm gonna go for it and see what happens with Love and Death and just tour and travel. I put my stuff in storage. I'm not even living anywhere right now. I'm just gonna tour. So it's on!
KE: Will we see any future involvement with you and Korn, perhaps on a new record?
BW: Yeah, possibly. We've thought about that. We're just gonna take it slow and let it happen naturally you know. Like that performance that night, it just kind of fell into place. So we're' just gonna let things fall into place.
KE: You've also done a lot of public speaking. It is important to you to get your message out there and will you be able to continue doing that with such a busy schedule?
BW: I think so. Yeah I think that it will work. Obviously, I'm more busy now because the music thing is getting really busy but I got two in April that I'm doing. I'd love to keep doing the public speaking. You know there are a lot of hurt people out there and that's my mark to reach them through music or speaking or whatever. You know you've got to be real with this generation. They can spot a phony miles away so you just be real, share your heart and people can relate. I love that.
KE: You're also an accomplished author. Are there plans for any more books in the future?
BW: Not books but I did get the opportunity with Loudwire.com and I'm a monthly columnist up there now. You know, take it month by month and I'm gonna write a little on there and it'll be interesting to see what will happen with that.
KE: Well, it sure sounds like you will be busy. We can look forward to seeing you out on the road with Love and Death this summer and the reunion shows with Korn. Thanks again for your time today.
BW: Thank you. We appreciate what you guys do because obviously rock music is suffering a little bit and we couldn't do it without you, so thank you.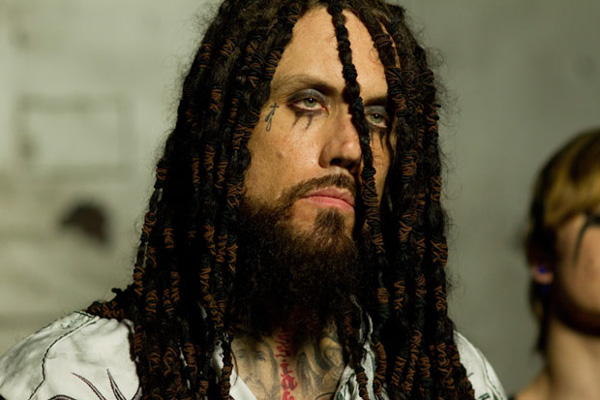 We would like to thank Jill Bader from New Ocean Media for setting up the interview with Head. For more information on Love and Death including the new CD "Between Here & now," please go to: Love and Death. For more information on Head himself, please go to his site here: Brian "Head" Welch.