Guitarist extraordinaire John 5 (David Lee Roth, Marilyn Manson, Rob Zombie), is in the midst of his first ever solo tour. The tour is going so well, it's been extended through March and includes a stop in Rochester, New York, on March 7th. With seven (7) solo albums under his belt, he has plenty of material to wow audiences wherever he goes. The spellbinding instrumental pieces on his latest album "Careful with that Axe" are not to be missed. Join us as we discuss his latest album, his solo tour, The Creatures, the release of his upcoming album with Rob Zombie and the selling off his KISS poster collection.
DH: Hello John! Welcome to Backstageaxxess.com and thanks for taking the time to talk with us today.
J5: Well thank you for having me. Good to talk to you!
DH: I know you're busy and aside from your solo tour, rumor has it that you're also making a new album with Rob Zombie.
J5: Well actually, I'm not sure when the album will come out, but it's done.
DH: You have seven (7) guitar albums under your belt, the latest being "Careful with that Axe." This is your first ever solo tour! What made you wait so long?
J5: I never really had the time with everything going on but this time Rob is making a horror movie called "31" and I had some time so I thought, I'm going to book some instrumental shows. It's been going so great! I was very hesitant of it but it's been going phenomenal. The shows have been great. The crowds have been great. So, uhmm, I couldn't be happier. It's a little cold but other than that, everything's perfect.
DH: And you've extended the tour because of the response you're getting or just because you happen to have the time to do it?
J5: A little bit of both (laughter). Everyone was enjoying it and we were getting offers so we extended it a bit and it went perfect.
DH: How does touring with your own band "The Creatures" differ from touring with Rob Zombie?
J5: The hotels are a lot different. The hotels aren't as nice and there's a lot involved in getting everything done just right. I'm doing everything myself so it's a lot of work but we're all having a great time!
DH: As long as you're having a great time, that's what counts. Would you tell us more about The Creatures…Rodger Carter and Ian Ross. How long have you been playing together?
J5: Well, Rodger Carter has been around for a while and he was on "Careful With That Axe," the latest record. Matt Bissonette played bass on the record but plays for Elton John and I needed a bass player so I went and auditioned a bunch of bass players and there was Ian, who hit it right on the money. He's brand new to it. It's our first tour but luckily everything is working out perfect. It's only been 11 or 12 shows or something like that and he has fit right in. I've known Rodger for most of my life so it's been great!
DH: How many shows are on tap for this tour?
J5: We're playing a lot. We've only been on the road for a few weeks and we're just playing every day and that's what I like. I'd probably just be in a hotel room anyway, playing guitar, so I might as well do it on stage.
DH: Are you playing any Zombie or Manson tunes on this tour or is strictly solo material?
J5: It's strictly instrumental but I do a medley of songs and throw a little Zombie in there, a little Manson in there, a little Ozzy, Van Halen, Iron Maiden, Black Sabbath. You know, so there's a medley. The show goes through, well, a lot of things happening. It's a production so the people who come to the show, they're very impressed. There's a lot of crowd interaction. There's also some country, swing and Spanish style music. There's a lot going on!
DH: I've listened to the album and I consider you to be a very adventurous musician. You're able to blend various styles and they all flow together. You mentioned the production involved in your shows. How much of the production were you involved with on the album?
J5: We were playing and rehearsing all the time. Rehearse, rehearse, rehearse. It only took like, maybe, a couple of hours to record each song because we were so well rehearsed. So, that's when I thought; hey, you know, we may as well take this on the road. That's how it all kind of started. The tour was the natural progression.
DH: Changing the subject for a moment. You and I are both big KISS fans and the last time we spoke, you were considering selling off your KISS poster collection for others to enjoy. Have you done that and if so, do you miss it?
J5: Sure! I did sell them and I do think about them from time to time, like an old friend or something like that. But it was definitely a smart move and so I'm happy.
DH: Did you keep any?
J5: I did not. I sold them all to one person.
DH: That's one lucky person (laughter). About how many posters did you have in your collection?
J5: Well, I don't know. It was a lot. It was an extreme amount. I had huge, huge rolls and I had probably about eight (8) rolls. There were probably a hundred (100) in each roll.
DH: Well, they could certainly fill a few rooms! Let's talk about your gear a little bit. I know the J5 Signature Telecaster has been out for a while, are there any updates in the works on your signature series?
J5: Well, I did it in a gold version like my main guitar that I'm using now. Squier put it out and that's a total affordable guitar and it's gold with gold hardware and binding and it's just beautiful. I really enjoy the Fender Telecaster and that's what I modeled it after.
DH: Very nice! And what's the best way to get your hands on one?
J5: You can get it in music stores or you can order it online. Either one of the two.
DH: Changing the subject again, are you still writing for Chrysalis?
J5: No. Chrysalis publishing company isn't around anymore. A lot of these publishing companies are merged into different companies because the industry is so bad.
DH: The industry has changed a lot. How has that affected you?
J5: It has changed tremendously and everything is, you know, good and bad. So, I like it because it's a lot easier to get music now but also, there's a lot of piracy and that's the downside. Times change and we will never go back to how it was. It will just be something different and we don't know what happens next. So we're just in a weird time for buying music right now.
DH: For "Careful with that Axe," did you record that a private studio?
J5: It was done at Rodger Carter's studio. My drummer, he has a studio called Dog House Studio. It's a gorgeous studio. So that's why I did that. It's here in California.
DH: You have quite a repertoire as guest guitarist and even a ghost guitarist for numerous artists. How do you incorporate your writing with the folks you're working with?
J5: Well, it depends on who I'm working with. I usually work with people who I really enjoy listening to or I know a lot of their catalog. So it's kind of like answers to a test. You kind of know what the band or artist is looking for. You kind of know what key they like to write in or what style matches. The answer is there because I already know the catalog so well.
DH: Your musical versatility plays a big role in your ability to record and perform with so many different artists. You've extended your solo tour and there's a Zombie tour coming up. Do you get a break between tours?
J5: Yes. I get a break an go home and enjoy, you know, the home life. I really love that.
DH: What can fans expect when they come out to see you on your solo tour?
J5: You know, it's really a great, fun show. It's a great show! There's a lot that happens and we do songs from each album and the medley we talked about.
DH: Backstageaxxess.com is looking forward to catching your show in Rochester, New York, on March 7th. Is there anything you'd like to add?
J5: Come on out and see the show!
DH: Excellent! Thank you so much for taking the time to talk with us today. It has certainly been a pleasure!
J5: Thank you for the interview!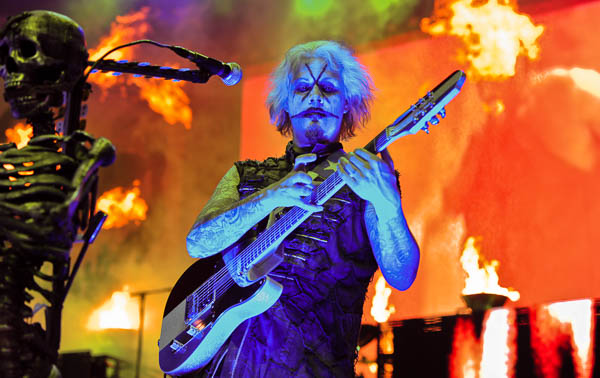 We would like to thank Nancy Sayle of VQPR for setting up the interview with John 5. To purchase tickets to the show in Rochester on Saturday March 7, 2015, please go to: Tickets.For more information on John 5 go to: John 5. If it's Rob Zombie info your looking for then click here: Rob Zombie.