No band had more fun at Rock on the Range 2018 than Them Evils. The rock trio from Huntington Beach, CA were set to open the Bud Light stage on Saturday, May 19th but bad weather changed those plans. Apparently Mother Nature wanted Them Evils to open up the Main Stage instead because that is exactly what happened when their slot got rescheduled to the following day.
Them Evils consists of Jordan Griffin on vox/guitars, Jake Massanari on bass, and Dave Delaney on drums. The band is currently promoting their newly released EP, "Rollin' Stoned and Livin' Free." The EP is tailor-made for cranking up the volume on summer drives with the windows down. Simply put, Them Evils make music that is timeless, riff-driven and can appeal to anyone looking to have a good time.
BackstageAxxess had the chance to speak with the whole band in the media tent at ROTR 2018 a matter of hours after their original time slot was delayed. The guys talked about their new EP, latest music video, and their affinity for my cursive handwriting.
SP: Okay, well we're talking with Them Evils. Sorry you guys didn't get a chance to play today because of all that rain!
Jordan: It's alright, we're playing tomorrow at the Main Stage at 12.
SP: Oh so they fixed it!
Jake: Yeah, they canceled us and brought us back. They couldn't keep us away for too long, you know? *laughs*
SP: Well that's good. So I just listened to your new EP "Rollin' Stoned and Livin' Free" and I've got to say congrats on making a killer slab of rock n' roll.
Jake: Thanks! Was this your first time listening to us?
SP: Nope, I caught you out on the road touring with Zakk Sabbath. What was that experience like?
Jordan: It was the best experience ever.
Dave: Yeah, especially because that's like a supergroup cover band. You've got Zakk Wylde on guitar, Blasko on the bass, and Joey Castillo on the drum. So it's a legend in every position. So being able to witness that and hang out with them on a daily basis. I don't know man…I've got to find another way to top that in my career.
Jake: I'll top it for you tonight in the back of the RV. *laughs*
Dave: Oh, okay. Yeah, he knows how to satisfy me. *laughs*
SP: So the new EP was released today (May 18) and you've got a couple prior to this one, correct?
Jake: Yeah, it was released today.
Dave: One of them we consider more of a demo, but yeah. "Cold Black Love" is the one I consider more of a demo I guess. It has songs that we actually revisited on this new EP. It was a great time recording that old EP, but we felt like it could have done it a little better on certain things. After a couple years of playing the songs, they changed a little as far as playing them a stage so we wanted to capture all that.
Jordan: Yeah we recorded those songs when we first got together, but they were already written and we always thought that we could do them a little bit better sonically wise and organizationally wise…the structure of the songs. And they (the songs) change over time.
SP: So there's an EP out. When can we expect a full length record?
Dave: Um, I don't really know. I guess time will tell. I guess we're more focused at the moment on what the next tour is going to be. We don't know yet, but we're working on it.
Jake: We'll be on tour all fucking year.
Dave: Regardless of with who or when.
Jake: Within the next year there'll be a full length. It's hard for us because bands nowadays have to be on tour constantly to make yourself known. And so it's hard finding a time to write a record and still pop up in people's cities to stay relevant. That's the balance between doing a full length and touring.
SP: I notice that this year at ROTR there are several real rock bands with bands that actually play instruments. Thinking of you guys, Greta Van Fleet, Joyous Wolf, Tyler Bryant & the Shakedown, etc. People that are actually playing guitar riffs.
Jake: Tyler Bryant! Yeah man, we bumped into him at Rockville and he's hit us up since then. We're stoked because right after we play the Main Stage tomorrow Tyler Bryant plays which is dope.
SP: He's a hell of a guitar player and I'm a big Aerosmith fan so it's great they have that connection with Graham Whitford in the band.
Jake: That band's too good. His tones are insane.
SP: It gives you faith in the next generation of rock bands and rock fans. I've seen a lot of those bands' merch represented out in the crowd today. Were you able to catch any bands that you wanted to see this weekend?
Jordan: Alice in Chains.
Dave: Yeah, we were here yesterday and we did an acoustic performance so we got to hang out a little bit. Alice in Chains is definitely the biggest one for me the whole weekend.
Jake: I loved seeing Underoath, personally. I grew up on that shit and the last time I saw Underoath was when Aaron Gillespie, on their farewell tour, wasn't even in the band. So seeing Aaron Gillespie on drums and sing for them again from side stage was pretty fucking cool.
SP: Did you guys catch A Perfect Circle? Maynard was actually visible.
Dave: Oh yeah, that too! He even had some like makeup on or something. He was definitely pushing that new album vibe.
Jake: His stage presence was so captivating. No one moves like that.
Dave: I guarantee that when people go see Tool tomorrow you won't be able to see him. It's just like a band thing, I guess.
SP: Well, whatever works for him. Obviously it's working since they're headlining. I wanted to talk about your new music video for the single "Got Me Rockin." Who came up with the concept of the band playing a lame birthday party and then rocking out for the hot chick?
Dave: I wrote a script and our buddy Steven Spielman directed it. He also did our "She Got Nothin'" video so we felt like it was obvious to go with him for this video. I just presented the idea to everybody that it's just a backyard party. It was just a matter of getting people…it was filmed at my house and the street that I grew up on.
Jake: His dad is the one that gets the fucking cake in the face!
Dave: Yeah, and my grandpa is the one that shatters the bottle. It's his 1940s Ford truck that we're driving around in that, so it was very family oriented.
Jake: It was the whole Delaney team in general that made that video happen.
SP: That's great to hear. It kind of reminded me of Lamb of God's "Redneck" music video a little bit.
Jake: Yeah! With the birthday party where they come off the bus and they're fucking kicking shit down. Yeah, definitely.
Dave: Another influence was the Every Time I Die video "Decayin' With The Boys."
Jake: Yeah they did it kind of next level. They had dicks, alligators, and other stuff that we couldn't afford. *laughs*
Dave: I guess we went a little commercial. *laughs*
Jake: If we could have afforded an alligator, we would have had a fucking alligator.
SP: *laughs* Well it came out great regardless. Why do you think riff-based rock music is coming back to the forefront again?
Dave: It's a cycle to me. You just notice that every decade there will be some wave of rock, no matter whether it's nu metal or grunge.
Jake: Right now the stuff that we grew up with is trendy. Jordan and I walked into a fucking GAP the other day and they had Metallica shirts lined up… at GAP. Nextdoor at Forever 21 they had Guns N' Roses denim jackets. At first I wanted to get angry like "Fuck, the girls or dudes that will be buying this don't know this shit." But then at the same time… rock n' roll is trendy right now, so let's fucking go with it.
Dave: I would suck a dick to have my logo and my band's name to be sold at GAP and Forever 21.
Jake: I'd suck his dick for that.
Dave: That's money and that's what you need to keep doing that. So if there are people out there that don't agree with that, then they can go fuck themselves.
SP: What is your general impression of Rock on the Range?
Dave: It's probably one of the best festivals ever. It's by far my favorite.
SP: Good, I'm from Columbus so I've got a personal stake in it.
Dave: We were here last year even, so I'm starting to get used to the idea that you show up and there's bad weather. I've heard a lot of people say "Rock on the Rain."
Jake: That's a good pun.
SP: Yeah, a lot of people think they're the first person to think of that.
Jake: Do you write in cursive?
SP: I do write in cursive.
Jordan: It's beautiful.
SP: Oh this is chicken scratch.
Jake: No! This is beautiful handwriting! Sorry, I'm weird about that shit. Ask him. *gestures to Jordan* I'm always like, "You've got beautiful handwriting."
Jordan: Yeah, I went to a private school and that was a requirement.
Jake: You've got great handwriting. Good for you.
SP: I've got a 6 year old and I don't know if they're going to teach it to him or not. That bothers me.
Jake: They don't teach that anymore?!
Jordan: Nope.
Dave: Yeah, it's done.
Jake: Why?! That makes us look smarter than America is.
Dave: Because people are fucking lazy.
Jake: Writing in cursive makes us look intelligent.
SP: Yeah, some folks write their questions out on their phone or computer – I like to write them out.
Jake: I love that. Good for you! What I love about cursive is that it just flows.
SP: Exactly! You don't pick your pen up.
Jake: It's fluid. Sorry, I digress.
SP: No problem at all. Actually guys, I want to thank you for taking the time to speak with us here at BackstageAxxess. Is there anything else you'd like to add?
Jordan: Be sure to check out themevils.com and we just released a new music video for "Got Me Rockin." Also check out Them Evils on Apple Music, Spotify, Facebook, Instagram, Twitter…I'm the plug guy today.
SP: *laughs* Thanks so much again!
Jordan, Jake and Dave: Thank you!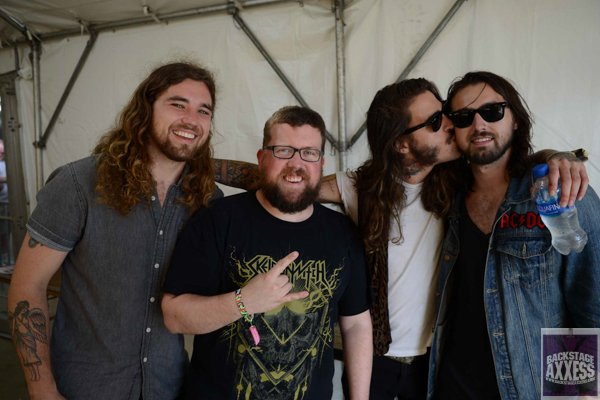 Photo of Steve and Them Evils take by Miss Shela. We would like to thank Ed Bunker from No Problem PR and Marketing for setting up the interview with Them Evils. For more information on Them Evils including their new EP "Rollin' Stoned and Livin' Free," please go to: Them Evils.